technology
Hong Kong Finance Chief Urges Activists to 'Retreat From Cliff'
By
China blames 'radical separatist organization' for HK violence

Occupy organizer says city's chief executive is responsible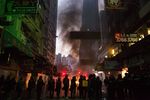 The perpetrators of violent clashes in Hong Kong this week shattered its values in one night, the city's financial secretary said, urging those involved to "turn their horses back from the cliff."
The "small group of people who lost rationality" marred the city's interests and tarnished its image, and their actions are a departure from Hong Kong people's respect for the law, John Tsang said in a blog post Sunday. He referred to the biblical story "The Judgment of Solomon," where two women who claim to be the mother of a baby were advised to cut the infant in two.
"A mother who truly loves her son would not saw him in half, and would never themselves be the executioner," Tsang wrote. Addressing those involved in the clashes, he said, "if you continue wading deeper into the mud, it's the Hong Kong you claim to protect that will lose in the end."
QuickTake Hong Kong's Autonomy
Tsang's comments come less than a week after attempts by government officials to clear illegal food stalls escalated into a violent face-off between police and protesters, resulting in injuries on both sides. Officers used batons and pepper spray to disperse the protesters, some of whom threw bricks and started fires in the city's Mong Kok district. On Friday, police said they would charge more than 30 people for rioting, while continuing to detain others.
Riots' Fallout
Coverage of the fallout has dominated newspapers during the Lunar New Year period. Zhang Xiaoming, director of the Chinese government's liaison office in Hong Kong, said Sunday he was shocked and saddened by the incident, which he said contained "terrorist tendencies."
In a statement posted on the liaison office's website, Zhang said he believed "justice will prevail over evil" and that the Hong Kong government would handle the situation in accordance with the law.
Benny Tai, a leader of the Occupy Central With Love and Peace movement, said in an open letter Saturday that Hong Kong Chief Executive Leung Chun-ying bears the most responsibility for the events. While denouncing the violence and saying peaceful protest is the way to achieve political goals, Tai said Leung was accountable for discontent among the people he governs.
Speaking to reporters Sunday, Leung said many of those charged for the violence were unemployed or involved in extremist political organizations, and as such "don't reflect society's opinions." He wasn't responding directly to Tai's comments. Sixty-five people have been arrested in connection with the incident, he said.
'Radical Separatists'
Chinese Foreign Ministry spokesman Hong Lei attributed the events to a "local radical separatist organization," according to a Feb. 11 statement from the foreign ministry. The stronger language sparked speculation that security laws could be strengthened.
Asked Sunday whether the Mong Kok incident would be used to revive so-called Article 23 anti-sedition laws -- shelved after massive protests against their implementation in 2003 -- Zhang said, "right now these two issues aren't linked," according to a broadcast of his comments on the local Cable News channel.
Tsang noted in his post that tourism is an anchor of Hong Kong's economy. The number of tourists from the mainland declined 2.5 percent last year, he said, citing tourism department data, but the number of visitors from Southeast Asia has grown. He said the city must continue to improve itself.

"Feeling a sense of love for Hong Kong is normal," Tsang said. Even if people have different perceptions of what allegiance to Hong Kong means, "we still hope to see Hong Kong thrive and won't accept it being damaged."
(
Adds number of arrests in eighth paragraph.
)
Before it's here, it's on the Bloomberg Terminal.
LEARN MORE