Twitter Use Reconsidered by London Tube After Tweet Feed Change
by
London subway mulling how to continue sending service alerts

CEO wants to help newbies by posting popular tweets first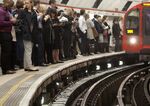 Twitter Inc.'s reconfigured tweet feed has prompted London's Tube to re-evaluate how it will use the micro blogging service.
A representative for Transport for London said the authority that oversees the subway system is in talks with Twitter to figure out how commuters can still get real-time service alerts now that the company is ordering tweets by popularity rather than chronologically.
Earlier on Friday, the authority had said it would immediately cut back on such alerts and use Twitter only for "major disruptions." Hours later, the transport authority, saying it had made a mistake, took down the post and said it was mulling how to proceed.
"Twitter has introduced various changes to the way it serves content to its users, and these have impacted upon our ability to reliably deliver these real-time status updates to our followers," the blog originally said.
Transport for London's dilemma reflects just one of many issues that die-hard Twitter fans have with the Twitter 's new direction. Chief Executive Officer Jack Dorsey is making these changes to make the site more palatable to newbies. But many existing users like the site just the way it is.

Through Thursday, twitter shares had dropped 38 percent this year amid deepening skepticism about the company's turnaround efforts. The social media site has faced sharp criticism over slowing audience growth. The company added no new users in the fourth quarter and forecast disappointing first-quarter revenue.
Before it's here, it's on the Bloomberg Terminal.
LEARN MORE