There Are Still a Few Tricks Seen Up Central Bankers' Sleeves
by
Investors err when assuming policy toolkit is empty: Citigroup

QE still packing a punch in global stock, bond markets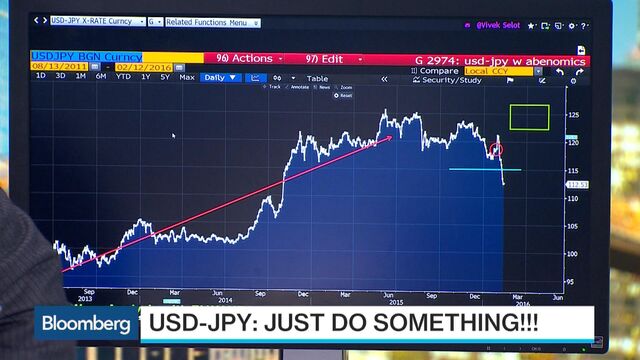 If one line of reasoning for the plunge in bank stocks is that monetary policy has lost its punch, investors would do well to recall a law of modern investing: "Don't fight the Fed."
As the week draws to a close, some Wall Street economists and strategists say monetary authorities have plenty more tricks up their sleeve -- even after more than 635 interest-rate cuts since the financial crisis by Bank of America Corp.'s reckoning and with central banks now sitting on more than $23 trillion of assets.
"Time and time again policy makers have shown themselves to be bolder and more inventive than asset markets give them credit for," Stephen Englander, Citigroup Inc.'s New York-based global head of Group-of-10 currency strategy, said in a report to clients late on Thursday. "Pessimism is unwarranted."

His proposal is that officials focus their policy more on boosting demand rather than just increasing liquidity in the hope that consumers and companies will find a need for it.
While he thinks targeted lending could help achieve that, he advocates what he calls "cold fusion" in which politicians would cut taxes and boost spending with central banks covering the resulting rise in borrowing by purchasing even more bonds.
"The next generation of policy tools is likely to be designed to act more directly on final demand, using persistently below target inflation as a lever to justify policies that will be anathema otherwise," Englander said.
In a similar vein, Hans Redeker, head of global foreign-exchange strategy at Morgan Stanley in London, is declaring it's time for central banks to begin using quantitative easing to buy private assets having previously focused on government debt.
'Monetary Toolbox'
"I would actually look into the next step of the monetary toolbox," Redeker said in a Bloomberg Television interview. "We need to fight demand deficiency."
Critics say that's the source of the problem. There's little more bond-buying and rate cutting can do to stoke the real economy. And markets, they say, now recognize that.
Part of this week's pain in markets has stemmed from the concern that the negative interest rates increasingly embraced by the likes of the Bank of Japan and European Central Bank do more harm than good by hitting bank profits.
That hasn't stopped JPMorgan Chase & Co. economists led by Bruce Kasman suggesting central banks could cut much deeper without any major side effects so long as they limit the reserves they are targeting. Citigroup yesterday that Israel, the Czech Republic, Norway and perhaps Canada could also join the subzero club in the next couple of years.
Themos Fiotakis, co-head of foreign exchange and rates strategy at UBS Group AG, also calculates that past quantitative easing is still lifting stocks and bonds and won't fade any time soon.
His estimates, contained in a report sent to clients on Wednesday, show that central bank easing and communication account for more than half the decline in bond yields and 60 percent of the rise in equity valuations across the four main industrial economies since 2008.
More Scope
He is betting that this boost will be sustained and that there is still scope for policy makers to do even more.
"There is significant room for accommodation for markets, especially coming out of the U.S.," Fiotakis said in a telephone interview. "If things turn really bad, market fears start to be realized and growth slows there is room for support from the U.S. There is a buffer."
The trick may be just to show more commitment to igniting inflation, said Nick Kounis and Maritza Cabezas, economists at ABN Amro Bank NV.
"The Fed should communicate more decisively that rate hikes are on ice until the clouds lift," they said in a report on Friday. "While the ECB and BOJ are heading towards more easing, it is unclear to investors that they really will do 'whatever it takes' to lift growth and inflation. We think central banks will eventually deliver, with global reflation efforts likely to intensify. The risk is that damage to the outlook has been done in the meantime."
The upshot is central banks may still carry more clout than investors now think.
"Policy makers have both been aggressive and imaginative in the design of policies when they have been pushed against the wall," said Englander. "Where investors have made mistakes is in assuming that the set of policy tools is limited to those currently on the table."
Before it's here, it's on the Bloomberg Terminal.
LEARN MORE