Tea Time Up as `Bulldozer' President Targets Tanzanian Waste
by
New president driving efficiency in government, cutting graft

Several senior government officials fired or suspended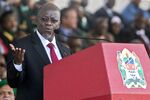 Business is slow at Hamisi Haruna's cafe in Tanzania's commercial capital, Dar es Salaam, because the civil servants who used to while away the hours there now stay at their desks for fear of angering the man known as the "bulldozer": President John Magufuli.
"There are no customers," the 26-year-old man said in an interview at the restaurant on Sokoine Drive on the eastern fringe of the coastal city. "This place used to be full all the time."
Since his inauguration three months ago, Magufuli, 56, has canceled Independence Day celebrations and barred civil servants from sending Christmas cards as part of a campaign pledge to tackle graft and curb waste of public resources. The money-saving measures generated a meme on Twitter that asked #WhatWouldMagufuliDo?
Tanzania, Africa's third-biggest gold producer, ranks in the bottom half of Berlin-based Transparency International's Corruption Perceptions Index, below other African nations such as Ivory Coast and Mozambique. Per capita income in the nation of 49 million people is $955, well below the sub-Saharan African average of $1,638, World Bank data shows.
Drinking Tea
On his first day at work, the president conducted an impromptu tour of the Finance Ministry's offices, where he demanded to know the whereabouts of officials whose desks were unoccupied. While Magufuli is soft-spoken, he earned a reputation as a hard-driving boss and was nicknamed "tingatinga," Swahili for bulldozer, in his previous position as the country's minister of works.
"Who sits here? What is his name?" Magufuli asked officials at the ministry in Swahili, footage aired on the state-owned Tanzania Broadcasting Corp., showed. "You're the boss here, where are the others? They've gone to drink tea?"
Magufuli fired at least seven government agency heads since coming to office on Nov. 5, including the head of the country's anti-corruption body, the chief of Tanzania's railways and a top immigration official. The dismissals signal the president's intent to stamp his authority on the new government, said Ahmed Salim, a Dubai-based analyst with Teneo Intelligence. Under Magufuli's predecessor, Jakaya Kikwete, perceptions of corruption in Tanzania increased over the past four years, according to Transparency International.
Calls to the mobile phones of Edward Hoseah, who was the executive director of the Prevention and Combating Corruption Bureau, went unanswered. Attempts to reach Reli Assets Holding Co. for former Managing Director Benhadard Tito's contact details were unsuccessful.
'Systemic Issue'
Magufuli is "trying to distance how his government will do business compared to his predecessor," Salim said. "However, because corruption in Tanzania is a systemic issue, it is unclear how the high-profile sackings will translate to a real decrease in corruption in the public sector."
The president's efficiency drive has also focused on tax collection. Takings exceeded 1.4 trillion shillings ($643 million) in December, beating the government's target by 12 percent, according to Finance Minister Philip Mpango. In November, the president suspended the head of the Tanzania Revenue Authority and ordered a probe into hundreds of shipping containers with goods worth 80 billion shillings that went missing at Dar es Salaam's port. About two dozen port employees were fired or suspended.
Revenue Boost
Improved tax collection means Magufuli can deliver on campaign pledges, Finance Ministry Permanent Secretary Servacius Likwelile told reporters Jan. 30. The Treasury has spent 37.5 billion shillings on school grants, 46.3 billion shillings on water projects and another 80 billion shillings on an electricity plant in Dar es Salaam over the past three months -- money that wasn't previously available.
Already with one of the continent's highest economic growth rates, Tanzania has yet to fully benefit from East Africa's second-largest natural gas reserves. The economy may expand 7.2 percent this year, compared with 7 percent in 2015, according to the Treasury. The government intends to cut its budget shortfall in the fiscal year beginning July 1 and increase spending.
The reforms will have to cut deeper if Tanzania's mainly agrarian economy is to transform into an industrial one, Haji Semboja, an economics professor at the University of Dar es Salaam, said in an interview.
"The economy is weak because laws are not well-enforced," Semboja said. "We remain a consuming economy dominated by imports."
While many Tanzanians laud Magufuli's zeal, curbing corruption will require overhauling the civil service's entire work culture and moral fabric, a task that will be impossible for the president to execute single-handedly, according to Nicholas Lekule, manager for policy and budget analysis at Policy Forum, a network of 70 civil society advocacy groups.
"The way he operates, his move is more of a one-man show and as such it may not yield much," Lekule said in an e-mailed response to questions. "What is interesting, however, is the fact that some public officials have been held to account, which in a way may instigate some sense of accountability."
Before it's here, it's on the Bloomberg Terminal.
LEARN MORE