Truce Deal Backed by U.S., Russia Draws Skepticism in Syria
by , , and
Questions on cease-fire prospects from rebels, Assad regime

Attacks to continue against Islamic State, al-Nusra groups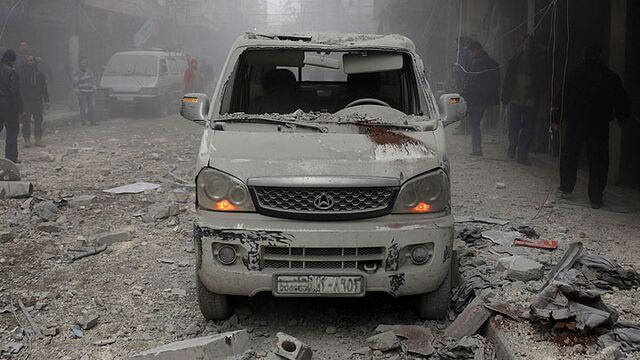 World powers agreed on a partial cease-fire in Syria's war, reaching a deal that could forestall a humanitarian crisis around the besieged city of Aleppo even amid skepticism about how broad and lasting the truce might be.
Backing the accord were all the major outside powers in the five-year-old conflict, including the U.S., Russia, Turkey, Saudi Arabia and Iran. But the halt to fighting won't cover jihadist groups like Islamic State, meaning U.S., French and Russian airstrikes against them will continue. Reaction in the region and from forces inside Syria was cautious. 
"It's a positive step but it's only a very small step," said Ghanem Nuseibeh, founder of London-based consulting firm Cornerstone Global Associates, who spoke from Dubai. "Even if the cease-fire holds it does not mean the end of the Syrian war."
The deal came as Russia's almost six-month-old bombing campaign backing the regime of Syrian President Bashar al-Assad delivers its biggest results so far, with government forces threatening to drive rebels out of Aleppo, one of their strongholds. Russia's military intervention has upended U.S.-backed efforts to force Assad from power and provoked threats of military moves by U.S. ally Saudi Arabia, fueling fears the conflict could expand.
A 'Pause'
U.S. Secretary of State John Kerry said the truce would be a "pause." Achieving the "nationwide cessation of hostilities" will be "ambitious," he said at a news conference early Friday announcing the agreement. If implemented, the cease-fire would be the first formally declared and sustained suspension of the fighting since the war started in 2011. The truce is set to start in a week, while air drops of humanitarian aid will begin immediately.
Speaking alongside Kerry, Russian Foreign Minister Sergei Lavrov said reaching a lasting cease fire will be "difficult," but said the U.S. and Russia would negotiate over the coming week on the details of the halt to fighting.
Rebel groups won't halt hostilities unless Assad's forces and their Russian and Iranian allies stop targeting them by Feb. 18, when the cease-fire is due to enter force, according to the High Negotiations Committee, the main opposition group. The body is ready to attend the next round of United Nations-sponsored peace talks scheduled for Feb. 25 if the commitments are implemented, chief spokesman Salem al-Muslet said in an interview in Munich.
He called on the U.S. to ensure Russia stops bombing opposition groups. "I hope that the U.S. will do the job right because you cannot really trust Putin on this issue," he said, referring to Russian President Vladimir Putin.
Within Syria, initial reactions to the deal were skeptical.
"This is a conditional cease-fire that's not right and unacceptable," Col. Haitham Afisi, deputy chief of staff of the rebel Free Syrian Army, said by phone from the Turkish-Syrian border. "People in Syria are dying of hunger and Aleppo and other areas are besieged. The cease-fire can only be accepted if roads are reopened, humanitarian aid reaches those in need of it and the main demands of the opposition are met."

Syrian lawmaker Sharif Shehadeh, a regime loyalist, said from Damascus that as long as there's no "clarity" on the issue of which groups are considered terrorists and thus not covered by the truce, it's unlikely the deal will hold. "I'm not optimistic," Shehadeh said.
Assad pledged to regain control of the entire country but signaled it could take a "long time," in an interview with Agence France-Presse released on Friday. Assad told AFP in Damascus on Thursday that he backed peace talks, but that negotiations do "not mean that we stop fighting terrorism."
UN-brokered peace talks between the Syrian government and opposition broke down last week as Assad's Russian-supported assault tightened the encirclement of Aleppo, once Syria's most-populous city. The U.S. and its regional allies have blamed Russian bombardment of the rebels for worsening the humanitarian situation. Russia denies that.
Jihadist Groups
Syria's civil war has already left about 260,000 people dead and caused the biggest migrant crisis in Europe since World War II, as well as a growing threat from terrorist attacks.
The agreement in Munich doesn't cover Islamic State and al-Nusra, two jihadist groups fighting against the Assad regime. They and any others designated as terrorists by the United Nations Security Council will continue to be subject to attacks.
"Russia has agreed to talks knowing that the cease-fire won't last," Frants Klintsevich, deputy chairman of the Defense Committee in the upper house of Russia's parliament, said in a telephone interview. "Bombing won't completely halt, but we will reduce the amount."
(An earlier version of this article corrected the committee name for the Russian legislator quoted in the penultimate paragraph.)
Before it's here, it's on the Bloomberg Terminal.
LEARN MORE