business
Smashed Valuations Show S&P 500 Used to Profit Recession
By
Index's forward 12-month P/E ratio is below historical average

S&P 500 profits on pace to contract for third straight quarter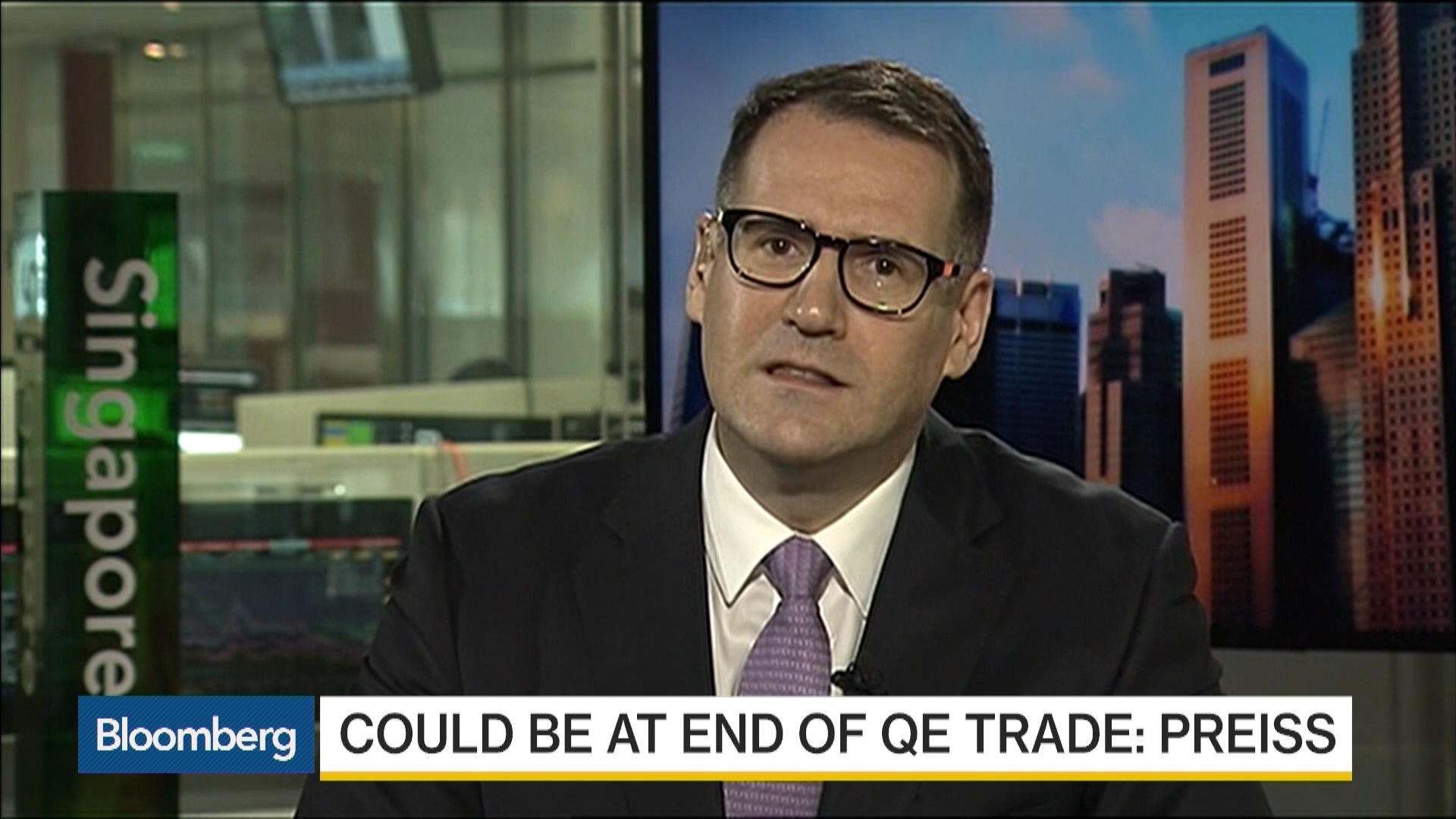 The simplest way of explaining the selloff that has driven U.S. stocks closer to a bear market than any time in five years is that investors are adjusting to a new earnings reality. Based on share valuations, that reality is pretty bleak.
While equity analysts continue to predict a rebound in Standard & Poor's 500 Index profit this year, stocks are no longer buying it. Evidence can be seen by plotting the forward price-earnings ratio against its historical average, a comparison that could be read as suggesting investors don't see profits rising anytime soon.

The S&P 500 has a forward 12-month P/E ratio of 15.2 times, the lowest in two years and down 13 percent from 17.4 at the start of 2016, according to Bloomberg data. One way to get the multiple back to its historical average of 16.6 would be for corporate profits to fall this year. Currently, analyst estimates compiled by Bloomberg call for a 4 percent increase. The index climbed 2 percent at 4 p.m. New York time.
"There were some rather heroic growth forecasts built into a lot of U.S. earnings numbers, and clearly they're no longer expected to materialize," said Matthew Whitbread, a Boston-based investment manager at Baring Asset Management LLC, which oversees $35 billion. "Investors have started to question where that growth would come from, and they've realized we're one step closer to a recession."
Contracting valuations haven't gone unnoticed in official circles. The Federal Reserve said in its semi-annual monetary report on Wednesday that the drubbing in stocks has pushed P/E forecasts back in line with historical levels. As equity investors grapple with threats ranging from slowing global growth to a strong dollar, their solution has been simple: sell stocks pending signs of a recovery. They've done it for five days in a row, extending losses since last May's high to 14 percent. S&P 500 companies are in the process of reporting their third consecutive quarter of earnings declines and are expected to see profits fall through June, analyst estimates show.
Among S&P 500 members, combined quarterly income growth has turned negative in 33 instances since 1937, data compiled by Bloomberg and S&P Dow Jones Indices show. While half of those episodes lasted no more than six months, the others almost always dragged on, spanning five quarters on average. Out of the 17 occasions where earnings fell for at least three quarters, 14 occurred within three months of a bear market.
"The P/Es in the U.S. have been in question for a while," said Whitbread. "People are calling into question top-line growth being able to drive earnings expansion. Growth around 4 percent would be all you'd be able to eke out of U.S. equities this year, and even that's the best-case scenario."
Fed Chair Janet Yellen told Congress on Wednesday that declines in equities and other markets may weigh on the outlook for the economy. Financial conditions have become less supportive of growth and further rate hikes will be gradual, she said before the House Financial Services Committee.
Meanwhile, with stock prices plummeting amid stagnating profit growth, the spread between rates in the Bloomberg U.S. Corporate Bond Index and the earnings yield for the S&P 500 is narrow compared to its historical average. The advantage is close to the smallest since 2010.

Picturing corporate profits as a yield and comparing them with fixed-income payouts is a way of judging relative value between the asset classes that has roots in a concept called the Fed model popularized in the 1990s. The advantage offered by stocks has widened slightly since the start of 2016, but to Ashwin Alankar of Janus Capital Group Inc., that still isn't enough.
"Given the great uncertainty of unprecedented events that are unfolding today, the market needs to provide much more compensation to equity-holders," said Alankar, who oversees more than $1 billion as global head of asset allocation and risk management at Janus Capital Group. "Until we see these levels of risk that the market is assigning subside, it's not the right time to step in."
(
Updates with Friday's trading in third paragraph.
)
Before it's here, it's on the Bloomberg Terminal.
LEARN MORE