Slim's America Movil, Bruised by Antitrust Law, Pins Hopes on TV
by and
Move timed with government review of Movil's telecom dominance

`We're ready for it': Carlos Slim Domit in Bloomberg interview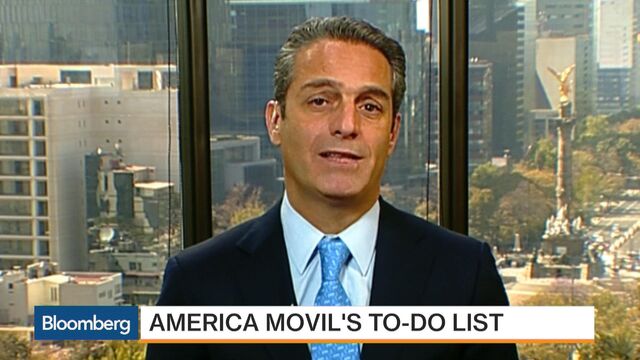 America Movil SAB sees an opening to finally offer television service in Mexico, after more than a decade of preparation to obtain regulatory approval.
The company plans to make its case for a pay-TV license as the government reviews whether its antitrust rules have had an effect on America Movil, said Chairman Carlos Slim Domit, the eldest son of the world's fourth-richest man by the same name. The process, designed to reduce the dominance of the carrier that has about 70 percent of Mexico's mobile-phone subscribers, is slated to begin in March and conclude in November. The only condition for America Movil to apply is to prove that it's taken steps to comply with the rules.
"We've accomplished all the regulation requirements, and we're ready for it," Slim Domit said in an interview at Bloomberg's offices in Mexico City. "Our competitors and government officials see that effective competition in the telecom market is in place, the rates have gone down and more services are in place."
Mexico's telecommunications regulator, IFT, will analyze whether laws backed by President Enrique Pena Nieto in 2014 -- which forced America Movil to share infrastructure and cut fees charged to competitors to connect calls, among other requirements -- have helped to curb the operator's dominance. The original goal was to bring its market share below 50 percent. The IFT could change or add new measures.
Offering pay-TV services in Mexico would give America Movil a new source of revenue as almost two years of sanctions take a toll on profit margins in the company's home market. America Movil shares fell to a seven-year low last month.
America Movil has faced increasing price pressures in Mexico, with new competitor AT&T Inc. luring customers with offers like no cross-border charges between the U.S. and Mexico. The Dallas-based carrier, which bought two rival businesses in Mexico, NII Holdings Inc.'s Nextel Mexico business and Grupo Iusacell SA, said this month that the laws have done little to dent America Movil's market share and that additional measures could drive change faster. AT&T, as a result of its $48.5 billion acquisition of DirecTV last year, has a partnership with Grupo Televisa SAB in satellite-TV company Sky Mexico.
"We want to keep generating new sources of revenue, particularly participating in all the services that are supported by telecom, but can bring strong benefits to our own customers," Slim Domit said. "It's a company that's still growing."

In anticipation of entering the TV business, Slim has been securing exclusive sports content, with a stake in soccer teams including Club Leon and the rights to air some Olympic Games. He's also building TV studios in Mexico's capital and has a library of shows and movies through the acquisition of DLA Inc. He already owns the online network UnoTV, where he produces news segments and talk shows.
The elder Slim, for his part, has been pushing for a TV license since at least 2006, when the government began letting cable companies offer telephone services. Felipe Calderon, Pena Nieto's predecessor, declined to grant Slim's request, arguing that he wasn't complying with regulatory demands.
"Gaining entry to the pay-TV market could imprint dynamism on America Movil's core market," Carlos de Legarreta, an analyst at Corporativo GBM SAB, said in a note after the company reported quarterly results this week.
Slim Domit, also chairman of holding company Grupo Carso SAB, is optimistic about Mexico's economy, as inflation is close to levels last seen in the late 1960s -- partly driven by a 14.5 percent decrease in telecommunication prices last year.
"Consumption is strong; we have a very healthy financial system, a very spread economy that is not anymore dependent just on oil and basic products, but in services, industry, exports," he said. This will be "a year of uncertainty, on an international basis, but Mexico is very well prepared."
Before it's here, it's on the Bloomberg Terminal.
LEARN MORE