Silicon Valley Hoodies Claim Victim in German Executive Wardrobe
by
Top executives from VW to Siemens to Bosch abandon ties

Changing dress code shows rush to adapt to digital business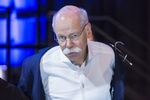 Silicon Valley's culture of the hoodie is claiming a victim in the wardrobes of German industry's boardroom elite: the necktie.
As digitalization changes the auto industry, dress codes are evolving too, Daimler AG Chief Executive Officer Dieter Zetsche said Thursday. Among the first to abandon the tie, the 62-year-old CEO spoke at a gathering of executives and prospective recruits in slim jeans, a white shirt and jacket -- and of course, no neckwear. He put up a slide of Facebook Inc. CEO Mark Zuckerberg in his trademark hoodie with plastic Adidas sandals.
"You do see this more often at our factory in Sindelfingen, too," Zetsche said, referring to the century-old plant that makes Mercedes-Benz's flagship S-Class sedan.
Zetsche isn't alone in loosening up. The sartorial signifier of seriousness is rapidly disappearing from the collars of the leaders of German companies steeped in tradition, from Volkswagen AG to Robert Bosch GmbH and Siemens AG. The subtext is that Germany's manufacturers are racing to show they can adapt to the digital world reshaping the way they do business.
The new informality sometimes comes from the top, as may have been the case when VW's leading cadre of executives left their neckwear at home for a management meeting in December.
Cutting Edge
"If you want to show the world you're cutting edge, you don't wear a tie," said Manfred Abraham, a partner at London-based brand management consultancy BrandCap.
Last month, top executives at 130-year-old Bosch shunned neckties at their annual media reception, moved this year from the wood-paneled residence of founder Robert Bosch to a newly opened high-rise "innovation zone" in Renningen, in southern Germany.
"Here in Renningen, the 'Stanford' of Bosch, the innovations of tomorrow emerge," CEO Volkmar Denner told his guests.
Self-Reinvention
Siemens CEO Joe Kaeser is no stranger to reinventing himself along Silicon Valley lines. After a stint in California, he returned to Germany as Joe, not Josef. He also shaved his traditional mustache (unlike Zetsche, who's said he'll never part with his). At a media event last year to trumpet Siemens's investments in startups, Kaeser and Chief Technology Officer Siegfried Russwurm took to the stage in open-neck shirts, calling each other "Sigi" and "Joe."
Neckties do have a history of mattering in Germany. Former VW Chairman Ferdinand Piech took legal action against the magazine Wirtschaftswoche about 10 years ago after it claimed he preferred "garish ties with hunting motifs." Piech argued via his lawyer that one of his ties showing an elephant and a man with a rifle was a war motif unrelated to hunting. At more recent public events, Piech opted for less controversial though still evocative images, including a checkered flag and a friendly polar bear pulling a sledge.
So, even if it disappears as a corporate must, don't write the necktie off completely. It has been in fashion in more or less its current form for a century. It has roots as far back as ancient Rome. Its future is as a style choice, not a duty, said Abraham, of BrandCap.
"The preppy look," he said, "is still alive and kicking."
Before it's here, it's on the Bloomberg Terminal.
LEARN MORE