Five Things You Need to Know to Start Your Day
Get your Friday started here.
by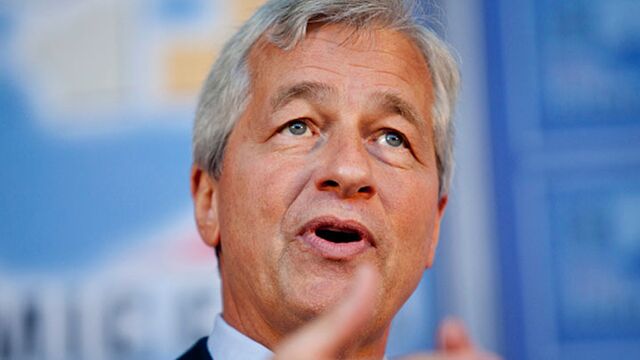 Markets stage a recovery, euro area growth is stable and Jamie Dimon buys some JPM shares. Here are some of the things people in markets are talking about today.
Markets recover
The Stoxx Europe 600 Index rose 1.7 percent at 10:50 a.m. in London as bank shares rebounded, led by Commerzbank AG which was trading 16.6 percent higher at 10:55 a.m. London time. Deutsche Bank, which has been at the center of the market storm, is up over 9 percent. Oil rebounded from its lowest level in more than 12 years with a barrel of West Texas Intermediate for March delivery trading $1 higher at $27.21 at 11:00 a.m. Gold dropped over $6 a troy ounce to $1242.75 and U.S. futures are pointing to a higher open.
Japan market rout
Markets in Japan were closed yesterday so the overnight was session their first chance to catch up with the latest leg-down in global stocks. Stocks plummeted in Tokyo, with the Topix index sinking 5.4 percent at the close for its biggest weekly loss since 2008. Japanese officials have been stepping up the rhetoric over the renewed strength of the yen, which is trading near a 15-month high against the dollar, despite the Bank of Japan's recent move to negative rates. GDP data for the fourth quarter is due to be released on Monday, with analysts expecting the country's economy to shrink 0.8 percent on an annualized basis, three years after Prime Minister Shinzo Abe introduced his 'Abenomics' policies.
Euro area GDP
Euro area growth stabilized at 0.3 percent in the fourth quarter of 2015, with the expansion largely driven by Germany once again. Italian growth came in at a disappointing 0.1 percent in the quarter and data from Greece shows that country has slipped back into recession. German bonds gave back some of Thursday's rally, while Portuguese debt continued to weaken with the two-year bond yield climbing to its highest since May 2014.
Bank shares
Banks have been having a bad start to 2016 with some shares falling below financial crisis levels and credit default swaps (CDS) blowing higher. European banks, by one measure, closed yesterday's session more oversold than in 2008. This did not stop Jamie Dimon, CEO of JPMorgan Chase & Co. from spending $26.6 million of his own money to buy shares in his bank yesterday following the tumble. With Commerzbank AG rallying this morning, there may be some light at the end of the tunnel for this battered sector.
Central bank power
The one place investors continue to look for relief is central banks, but there are increasing signs the central bank omnipotence is under threat.  The Bank of Japan's move to negative rates had no lasting effect on the yen, and the weakness in the Swedish krone following the Riksbank's cut to minus 0.5 percent did not even last one day. Overall, markets are giving negative rates a big thumbs down. Investors will be watching the ECB meeting decision in March to see if that central bank is listening. 
What we've been reading 
This is what's caught our eye over the last 24 hours.
Want to receive this post, and more, into your inbox every morning? Sign up here
Before it's here, it's on the Bloomberg Terminal.
LEARN MORE