Five-Decade Market Pro Who Called Bond Rally Sees 1% U.S. Yields
By
Gary Shilling sees Treasury gains as global rates go negative

Former Merrill Lynch top economist says this cycle is unique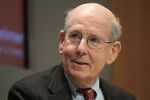 A year ago, with U.S. equities approaching record highs and the Federal Reserve moving toward raising interest rates, Gary Shilling was a lonely voice on Wall Street predicting financial-market gloom in the 12 months ahead.
Today, the 78-year-old analyst's calls for $20 oil and a 1 percent yield on 10-year Treasuries look increasingly likely, and he's sticking with them. The price of West Texas crude has fallen by half to $27.62 since Shilling made his $20 prediction last February, while benchmark Treasury yields have tumbled to 1.68 percent after rising to as high as 2.5 percent in June.
The man who five decades ago became the first chief economist at Merrill Lynch Pierce Fenner & Smith has witnessed numerous boom-and-bust cycles. Yet following history's playbook won't help this time around, he says. The world's biggest economies are faltering with inflation stuck near zero even amid unprecedented central-bank stimulus, while the Federal Reserve has amassed trillions of dollars in Treasuries.
"The majority of people somehow are looking for steady patterns and simplistic answers," Shilling, president and founder of Springfield, New Jersey-based research firm A. Gary Shilling & Co., said in an interview. "They're looking for something that fits into what used to be the regular cycles, but this is just not anything like that."

Contrarian Bets
Shilling's bullish bond thesis is that the U.S. won't be able to escape a storm of abysmal global demand, China's uneasy transition to a consumer-oriented economy and negative interest rates in Europe and Japan. All of that will push global investors into Treasuries, which are among the safest assets in the world and still offer some of the highest yields among developed nations.
That scenario has played out well so far this year. Treasuries have had their best start to a year since 1988, with 10-year yields tumbling 59 basis points, or 0.59 percentage point, since Dec. 31, as commodities plunged and global stocks entered a bear market. Thirty-year yields, which reflect investors' expectations for inflation, sank from 3.02 percent to 2.54 percent, approaching the 2 percent level that's another of Shilling's targets.
While the world has seen $20 oil as recently as 2002, Shilling's bond yield forecasts are still well below both all-time lows and where Treasuries are trading. He sees the Fed cutting interest rates this year.
Not all of Shilling's calls have been prescient. He missed the U.S. housing rebound after the financial crisis, rationalizing that a pent-up supply of homes would prevent price gains.
Most forecasters entered 2016 calling for higher bond yields with the Fed looking to raise rates as the U.S. economy gained strength. Instead, strategists retreated from their calls as yields fell. Fed Chair Janet Yellen this week said the recent surge in financial-market volatility may hinder the central bank's rate path, while investors continue to flee risky assets.
"What they're recognizing is the global issues are very much influencing the U.S.," Shilling said. "'No man is an island,' and no country is an island -- to quote John Donne."