Even Gold Bulls Underestimated 2016 Gain Now Topping Most Assets
by
Three-quarters of forecasts of peak 2015 price already smashed

ABN Amro `mega-bear' puts projections under review after gains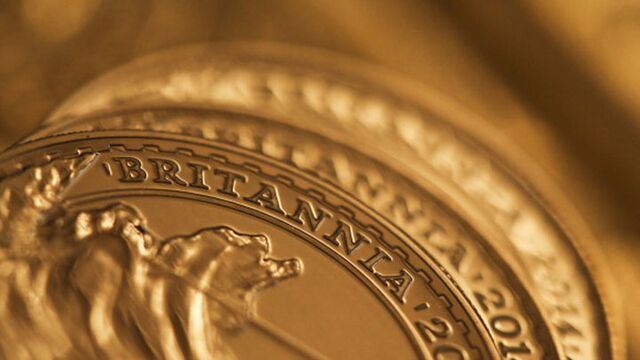 Even the combined brains of the biggest gold dealers, refiners and investment bankers failed to imagine just how much the precious metal would soar this year.
Two months into 2016, prices have surged past three-quarters of the peak forecasts in a mid-January survey by the London Bullion Market Association, whose members operate in the largest spot market for the metal. Gold has outperformed every commodity this year, as well as most equity and bond markets, after falling for three straight years.

Investors have been pouring into the precious metal in search of a haven as global equity markets tumbled and expectations for increases in U.S. interest rates were reined in. Gold surged to a one-year high above $1,263 an ounce on Thursday, at one point rising by the most since the 2008 global financial crisis. As recently as last month, speculators were betting prices would fall and banks like Goldman Sachs Group Inc. were predicting $1,000. Prices slid 0.3 percent Friday to $1,242.65.
"I have been a mega-bear, but for me this is a change in trend," Georgette Boele, an ABN Amro Bank NV strategist in Amsterdam, said by e-mail Thursday. "Our forecasts are under review." Boele, whose bearish calls have placed her among the most accurate forecasters in rankings compiled by Bloomberg, was projecting a drop to $1,130 this month as late as Monday.
Outperforming Peers
In the LBMA survey last month, only eight of the 31 members polled considered a maximum price for the year above $1,250. The average estimate of this year's peak was $1,231, while the average price over the 12 months was forecast at $1,103.
Gold has rallied 16 percent this year, outperforming all of its peers in the Bloomberg Commodity Index, as well as global stock and bond markets.
Christopher Cruden, overseeing $350 million as chief executive officer of Insch Capital Management, turned the gain to his advantage. His fund soared more than 18 percent in January and in excess of 15 percent in February trading gold against a range of currencies.
"If you can't get a move like this one right, you need to find other employment," Cruden said.
Less Than Zero
Even as the metal delivers no returns other than through price gains, that's a better deal than some government debt. Gold doesn't look so bad when rates are below zero in France, Germany, Japan and Switzerland, according to Bloomberg Intelligence.
BullionVault, an online trading service in London, said its users had bought and sold more than 450 kilograms of gold on Thursday in the company's busiest week since June 2013.
"The uncertainty level has risen, and that has caught a lot of people by surprise," said Rene Hochreiter of Noah Capital Markets (Pty) Ltd., who was among the most-accurate forecasters in 2015 and had expected prices to peak at $1,150 this year. "It's broken out of its downtrend, so things can get pretty interesting from here."
Before it's here, it's on the Bloomberg Terminal.
LEARN MORE