Euro-Area Maintains Momentum as Turmoil Threatens Outlook
by
Fourth-quarter GDP rises 0.3%, matching pace of prior quarter

ECB set to review current policy in March, may boost stimulus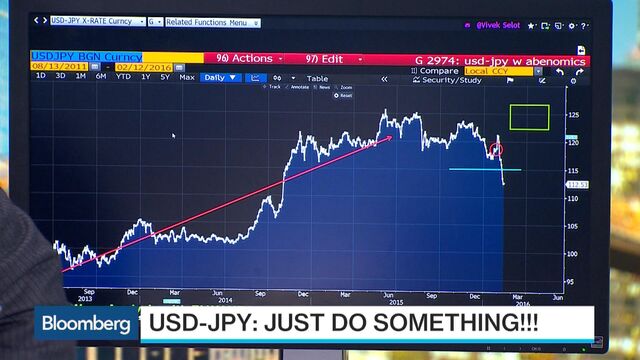 The euro-area economy maintained momentum at the end of 2015, though divergences across the region highlight ongoing struggles as global market turmoil threatens the outlook.
The 0.3 percent expansion in the fourth quarter was driven by Germany, its largest economy, which grew at the same pace. Growth in Italy slowed to just 0.1 percent -- the weakest in a year -- and Greece slipped back into recession.

The latest health check on the recovery comes as the European Central Bank ponders whether a new round of economic stimulus may be needed to safeguard growth and prop up inflation closer to goal of just under 2 percent. Facing market volatility, an oil slump and renewed concerns about weakening global output, President Mario Draghi has said the ECB has all the necessary instruments and is ready to recalibrate policy should this be required.
"We've seen a slowdown in the second half, the headwinds appear to be mounting due to a global environment that's increasingly challenging," said Nick Kounis, head of macro research at ABN Amro Bank NV in Amsterdam. "It's clear that there will be a downward revision for the growth and inflation outlook, which should provide strong evidence for the more dovish ECB members to push for more significance easing."
Global equities showed signs of respite on Friday after a turbulent week with European stocks opening higher after oil rose from a 12-year low. The Stoxx Europe 600 Index rebounded from its lowest close since September 2013. Still, it's down more than 15 percent this year.
Disinflationary Pressures
Even as the euro-area economy shows resilience, modest growth may not be enough to counter disinflationary pressures from abroad, prompting the ECB to unleash new measures. In doing so it would join the ranks of central bankers from Japan to Sweden that have taken action to revive inflation in an environment of rising global uncertainty. The case is also boosted by weakness in the European banking sector, which has come under pressure in recent days.
Euro-area industrial production slumped 1 percent on the month in December, according to European Union's statistics office data on Friday. That's the biggest decline since August 2014.
"Weak industrial production shows that the eurozone is not immune to weakness in emerging markets, let alone to a wavering U.S. economy," said Teunis Brosens, an economist at ING Bank NV in Amsterdam.
ECB Options
ECB options include increasing its monthly asset purchases from the current 60 billion euros ($68 billion) as well as cutting the deposit rate further into negative territory, just months after it announced a fresh round of stimulus in December.
The euro overnight index average, or Eonia, which measures the cost of lending between euro-area banks, fully priced in a cut of 10 basis points in the ECB deposit rate ahead of its March 10 meeting, when the central bank will decide whether more needs to be done and in what format. The ECB will also update its economic projections coinciding with the meeting, including a first assessment for 2018.
The European Commission has already cut its growth and inflation forecast for 2016, pointing to risks emanating from emerging markets and the refugee crisis. The Commission sees inflation of just 0.5 percent this year and growth of 1.7 percent, down from a previous projection of 1.8 percent.
Before it's here, it's on the Bloomberg Terminal.
LEARN MORE