East Europe's Economies Boom as Region Bucks Global GDP Slowdown
by
Slovakia leads east Europe with 4.2% GDP growth in 4th quarter

Hungarian forint, Polish zloty strengthen after GDP data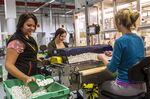 Eastern Europe's economic expansion, led by car manufacturing and rising domestic demand, is helping the region buck a global growth slowdown fueled by the decline of commodity prices and market turmoil.
Euro member Slovakia led the region with a 4.2 percent annual gain in gross domestic product last quarter, the fastest pace in five years. Poland's GDP rose 3.9 percent, followed by Romania with 3.7 percent, Hungary with 3.2 percent and Bulgaria with 3.1 percent, according to preliminary estimates from national statistics offices on Friday. The Czech Republic, which publishes its GDP data on Feb. 16, may top its neighbors with 4.5 percent, according to the median estimate of 12 economists in a Bloomberg survey.
"These serve as a timely reminder that not all parts of the emerging world are shrouded in gloom," William Jackson, a London-based analyst at Capital Economics Ltd., said in an e-mailed report. "Households have benefited from the windfall from lower oil prices, improving labor market conditions and more accommodative monetary and fiscal policy."
Signals by central banks from Europe to Japan that additional stimulus is at the ready are failing to ease investor concern that global growth will keep slowing. The World Bank last month lowered its forecast for 2016 growth to 2.9 percent, projecting a fifth straight year of gains below 3 percent as China's slowdown prolongs a drop in commodities and contractions endure in Brazil and Russia.
Citigroup's Economic Surprise Index indicates data in Group of 10 economies are falling short of estimates by the most since April 2013, and a selloff in crude oil and weakening credit markets are exacerbating the malaise.
Currencies Gain
The Hungarian forint rose 0.5 percent to 309.76 against the euro by 11:22 a.m. in Budapest. The Polish zloty gained 0.2 percent.
The expansion in eastern Europe, which has received billions of euros in funding from richer and more developed EU members, came as record-low interest rates and government stimulus programs added to the growth momentum. That contrasted with the western half the continent, which is also the most important export market for eastern states.
Euro-area economic growth was 0.3 percent in October-December from the third quarter. That compares with 1.1 percent expansions in Poland and Romania and 1 percent in Slovakia and Hungary.
Daimler, VW
Hungary, where car manufacturers including Daimler AG and Volkswagen AG's Audi unit are helping boost industrial production, GDP is on track for annual growth of about 3 percent in the first quarter, Economy Minister Mihaly Varga told M1 state television in an interview on Friday, MTI state news service reported.
In Romania, tax cuts and wage increases have boosted domestic spending. Poland, where domestic demand has similarly underpinned economic gains, was also helped by strong investment, Janusz Witkowski, the head of the statistics office, told reporters in Warsaw on Friday.
"There is clear growth momentum going into this year and those positive tendencies may have an impact on 2016," Witkowski said.
Before it's here, it's on the Bloomberg Terminal.
LEARN MORE