Dudley Says Talk of Negative Fed Rates Is Very Premature
by
New York Fed chief says U.S. economy is in `quite good shape'

Market turmoil stems from weakness abroad, Dudley says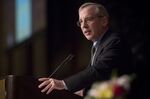 The U.S. economy has the momentum to help weather stormy global financial markets and policy makers have many other options before they would consider driving borrowing costs below zero if they need to protect growth, Federal Reserve Bank of New York President William Dudley said.
"I just find that an extraordinarily premature conversation to be having," Dudley said at a press briefing Friday in New York. "There are a lot of things that we would do long before we would really think about moving to negative interest rates."
Financial markets have been routed in recent weeks by concerns over the global economic outlook. Dudley said the Fed was "definitely aware of what's going on internationally" and would take that into account when the policy-setting Federal Open Market Committee meets on March 15-16.
In a remark that will probably reinforce views among investors that the Fed will not hike interest rates next month, Dudley said that the outlook for how quickly inflation would rise has been dimmed by recent financial-market developments.
"Inflation is probably going to take a little bit longer to get back to our 2 percent objective, everything equal, than maybe what you thought a few months ago," he said.
Zero Chance
The Fed raised interest rates in December for the first time since 2006 after growing in confidence that inflation would rise back to 2 percent over the medium term. Investors see zero chance the Fed will hike again next month, based on pricing in fed funds futures.
Still, Dudley argued that markets were responding to events abroad rather than in the U.S., and policy makers would wait to see how these developments affect the outlook.
"There is quite a bit of momentum in the U.S. economy to offset some of the weakness we're clearly going to see in terms of our trade performance, due to the fact that growth abroad isn't that strong and the dollar has appreciated," Dudley said. "I just think that talking about negative interest rates in the context of the U.S. is not something I'm spending a lot of time thinking about."
Fed Chair Janet Yellen was grilled by lawmakers about the possibility of a U.S. recession and the tools the central bank has to combat it, including negative interest rates, during two days of hearings before Congress earlier this week. Several central banks in Europe, as well as the Bank of Japan, have driven borrowing costs below zero in an effort to spur growth and stoke inflation that is too low.
Before it's here, it's on the Bloomberg Terminal.
LEARN MORE