Deutsche Bank Buyback Said to Spark Backlash From Newest Lenders
by and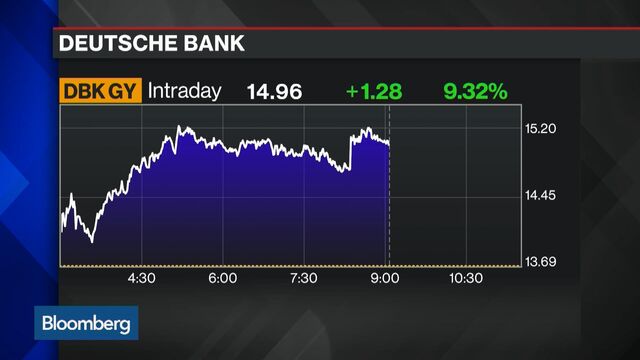 Investors who scooped up bonds sold by Deutsche Bank AG last month are pushing for better terms in the bank's $5.4 billion debt buyback plan, saying they were misled because the German lender failed to disclose its true financial position before the sale, according to people with knowledge of the matter.
Some of the bondholders who participated in the $1.75 billion, two-part offering say the bank, which announced a fourth-quarter earnings loss less than two weeks after the sale, should've made that disclosure before selling the bonds, the people said, asking not to be identified as the discussions are private. Some investors are so upset that they may raise the issue with regulators, the people said.
The money managers are planning to hold discussions next week to explore their options on how best to challenge the bank, the people said. In addition to raising concern about disclosure, the bondholders are pushing for greater priority and better terms in the bank's buyback offer announced Friday. 
Kerrie McHugh, a spokeswoman for Deutsche Bank in New York, declined to comment.
Deutsche Bank's buyback comes as the lender attempts to reassure investors who dumped European bank bonds and shares this week amid concerns over declining earnings and slowing global growth. The lender's debt in a Bloomberg investment-grade bond index have dropped 2.7 percent in the past month compared with a 0.4 percent decline for all bank debt. The $750 million of 4.1 percent notes sold in January slumped 5.7 percent.
The firms that bought the biggest piece of the January offering at 100 cents on the dollar are now getting an offer to sell them back to the bank at as much as 97.3 cents, according to calculations by Bloomberg Intelligence analyst Arnold Kakuda. The securities traded at 95.6 cents on Thursday.
Deutsche Bank, which unveiled the sale of the bonds on Jan. 8, said on Jan. 21 that it would post a 2.1 billion-euro loss for the fourth quarter after setting aside more money for legal matters and taking a restructuring charge.
Moody's Investors Service cut its long-term debt rating on the bank to Baa1 from A3, citing structural issues that contributed to "weak profitability," and the expense of maintaining a global capital-market footprint, the ratings firm said in a Jan. 25 statement.
Before it's here, it's on the Bloomberg Terminal.
LEARN MORE