Buying the Dip a Distant Thought as Pessimism Grips Market
by and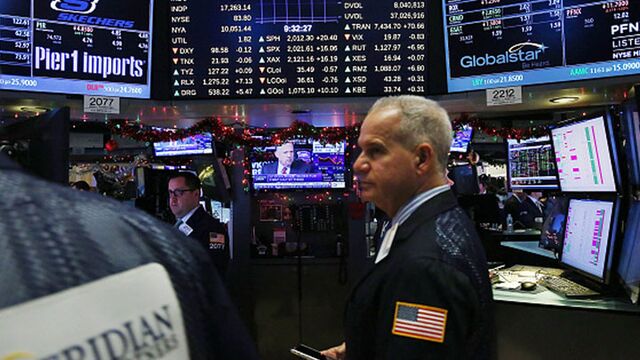 Shane Oliver is among investors who see things getting worse before they get better.
The head of investment strategy in Sydney at AMP Capital Investors Ltd., which oversees about $120 billion, says Asian stocks may drop another 10 percent. Shares are already at a 3 1/2-year low amid a global rout that saw equities around the world slide into a bear market this week.
"The selloff is feeding on itself," Oliver said. "Share markets have fallen and credit markets have weakened. That's creating fears of global recession and the problems with the banks is leading to fears that bank lending will be affected. It's a negative feedback loop."
Investors who have counted on central-bank policies to power stocks higher in the past are becoming increasingly disappointed. Japan joined Europe in starting to charge lenders for deposits last month, aiming to jolt banks into providing more credit and bolster growth. Investors, however, worry it may squeeze bank profits and rattle money markets. The perception that central-bank potency is diminishing is adding to investor worries over China's fading economic miracle and the near two-year collapse in oil prices.
Circuit Breaker
"We have yet to start buying into this dip," said Oliver. "To stop the malaise in share markets, we really need some sort of circuit breaker. That will probably have to come from central banks. At the moment, we're still not seeing that."
With the yen poised for its biggest two-week advance versus the dollar since the Asian financial crisis in 1998, speculation is growing that Japan officials may intervene to weaken it. Finance Minister Taro Aso said Friday that authorities will respond to markets appropriately, if necessary.
For Osamu Koizumi, Tokyo-based executive officer at Meiji Yasuda Asset Management Co., even an emergency move by the BOJ wouldn't necessarily have much impact in the face of a global selloff.
"It's best to just wait until things settle down overseas, especially the credit risk of financial companies," said Koizumi, whose firm oversees $7.9 billion. "The only buying we're doing are rebalance purchases to replace the amount that has declined. I don't think we'll be doing anything beyond that."
The MSCI Asia Pacific Index dropped for a fourth day, sliding 2.9 percent to the lowest since July 2012 as of 3:38 p.m. in Tokyo. Japan's Topix index plunged 13 percent this week, its worst drop since October 2008, while Australian equities also entered a bear market.
Seeking Safety
Even assurances this week from Chair Janet Yellen that the Federal Reserve won't rush to raise interest rates in the face of global ructions failed to stem the selloff in risk assets. Declines in U.S. and European stocks helped the MSCI All-Country World Index cap a 20 percent slide from its May record. 
Anxiety over central banks' ability to revive the world economy has sent investors scrambling for safety, boosting bonds and the yen. That in turn feeds concerns over Japanese equities, as a stronger yen threatens to imperil the world's third-largest economy through disinflation and lower profits for exporters.
"This is not just risk-off, but this is fear-on," said Jesper Koll, chief executive officer of WisdomTree Investments Inc. in Tokyo, told Bloomberg TV. "Fear that policy makers have become impotent and cannot act anymore."
Koll says stock declines are going too far and that's good news. A gauge of global equities is now trading at 14 times estimated earnings, the lowest valuation in two years. That's making markets "very attractive for any fundamental investor," he said. Companies in the Topix are trading at 12 times earnings.
"The Japanese equity market is basically trading now at near record low valuation parameters even if you assume earnings are going to be declining over the next 12 months," Koll said. "Slowly but surely one should start to dip into the market."
Ryuta Otsuka agrees that the market is oversold, but believes a more dramatic shift in sentiment is needed, which could come if central bank policy makers come through with countermeasures.
"Negative psychology is racing ahead," said Otsuka, a strategist at Toyo Securities Co. in Tokyo. "We're in a moment where Peter Pan thinks he can't fly any more. When everyone thinks they can't fly, we're doomed. There's nothing we can do but to try to overturn that sentiment."
Before it's here, it's on the Bloomberg Terminal.
LEARN MORE