BOJ Seen as Toothless for Yen Bulls Boosting Currency Forecasts
by
Barclays sees yen climbing to 95 per dollar by year's end

Options traders close to most bullish since middle of 2010
Currency strategists are writing off Japan's ability to weaken the yen through intervention or further monetary easing as the currency continues to benefit from financial-market turmoil.
Barclays Plc, the world's third-biggest currency trader, raised its year-end forecast for the yen to 95 per dollar from 120. Bank Julius Baer & Co., the top yen forecaster in Bloomberg's foreign-exchange rankings, predicts the currency will end the year at 110, after revising its earlier estimate of 118, according to data compiled by Bloomberg. Options traders are close to the most bullish in 5 1/2 years, risk reversals show.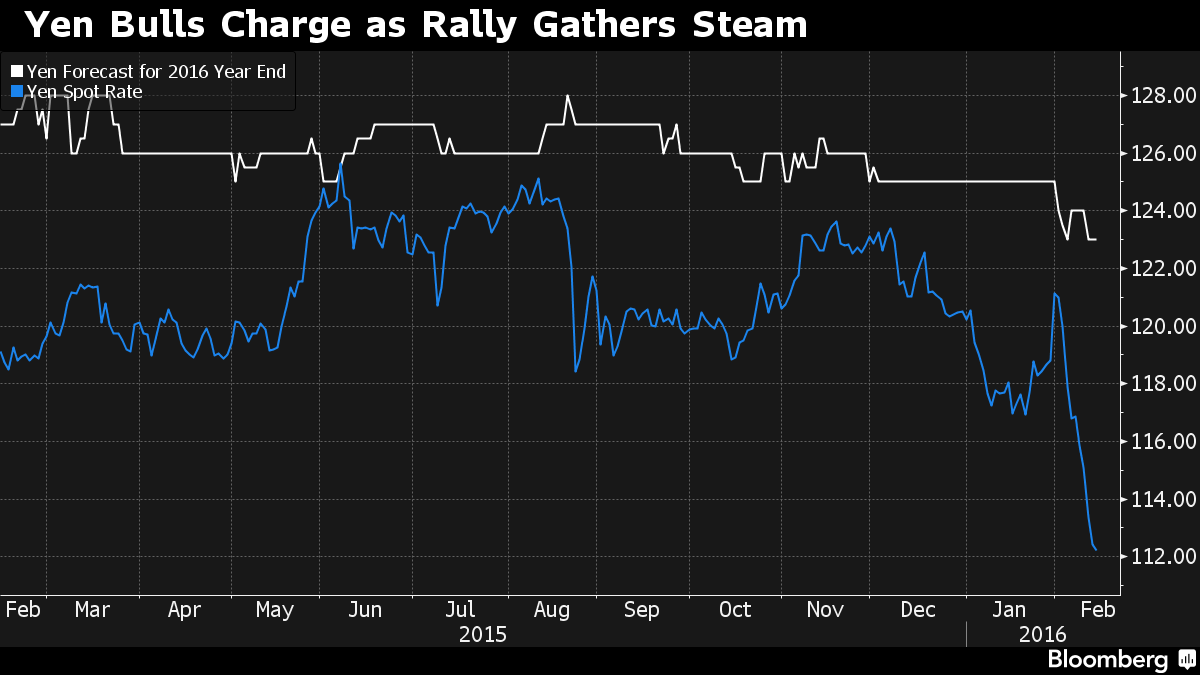 Japanese officials stepped up expressions of concern after the yen soared Thursday to the strongest since the central bank unexpectedly expanded bond purchases in October 2014. The currency's strength threatens to undermine the government's Abenomics program to revive the economy. The Bank of Japan's Jan. 29 surprise decision to adopt negative interest rates failed to rein in the rally, with the nation's current-account surplus attracting investors seeking havens from market turmoil.
"The stronger rhetoric and speculation about intervention or further monetary policy easing will likely create some volatility in the near term, but there's going to be a lot of interest in selling the dollar if it goes back up against the yen," Barclays's Shinichiro Kadota, a foreign-exchange strategist in Tokyo, said by phone. "The market's questioning the impact of and scope for further easing."
BOJ Not Feared
Even an increase in BOJ easing is unlikely to hold the yen down, Barclays said in a note to clients from analysts including Kadota.
The yen has appreciated almost 8 percent since Jan. 29, set for its biggest two-week gain versus the dollar since 1998 when the Federal Reserve unexpectedly cut interest rates amid fallout from a slowdown in emerging markets. Japan's currency traded at 112.24 per dollar as of 6:35 a.m. in London. It surged to 110.99 Thursday, the strongest level since Oct. 31, 2014.
Options traders see the yen strengthening. The premium for contracts to buy the currency versus the dollar in three months, over the cost of contracts to sell, was at 2.43 percentage points, after rising to 2.54 on Feb. 9, the most since July 2009 according to end-of-day prices compiled by Bloomberg.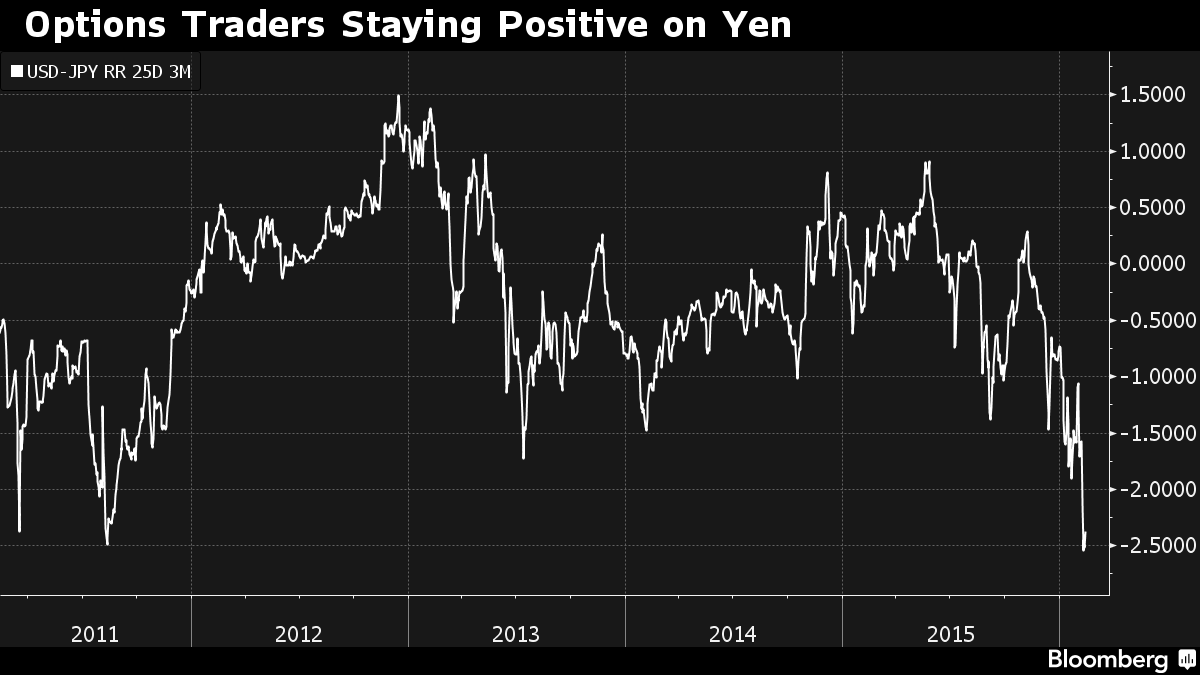 Barclays also changed its first-quarter forecast for the yen to 100 from 123, citing a reduction in bets the Fed will raise interest rates this year. There's about an 11 percent probability policy makers will increase borrowing costs in 2016, according to futures data compiled by Bloomberg. The odds were more than 90 percent at the end of last year.
Watching Markets
Finance Minister Taro Aso and Bank of Japan Governor Haruhiko Kuroda both said Friday the authorities are watching moves in exchange rates. Chief Cabinet Secretary Yoshihide Suga also said the government will take action if necessary as abrupt market moves aren't desirable.
Any intervention would lead to only a temporary decline in the yen, before it regains strength on haven demand, said Mansoor Mohi-uddin, senior markets strategist in Singapore at Royal Bank of Scotland Group Plc. The currency will likely reach 110 this quarter, even if Japan intervenes, he said.
"For intervention to turn around dollar-yen permanently, the BOJ would also need to ease domestic monetary policy further and -- more importantly -- the Fed to raise rates," Mohi-uddin said. "Until the Fed is able or willing to raise rates further this year, dollar-yen is likely to trend lower, punctuated by any intervention Tokyo undertakes."
Before it's here, it's on the Bloomberg Terminal.
LEARN MORE