Bank of England Veteran Fisher Plans to Retire After 26 Years
by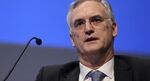 Paul Fisher, deputy head of the U.K. Prudential Regulation Authority, will retire this year after 26 years at the Bank of England. He'll be replaced by Lyndon Nelson, the PRA's executive director for supervision of U.K. deposit-takers, a BOE spokeswoman said.
Fisher, who joined the central bank in 1990 and sat on the Monetary Policy Committee for five years, will retain an advisory role at the Bank's Centre for Central Banking Studies, where he will design and teach the BOE's new postgraduate qualification, the spokeswoman said.
Governor Mark Carney praised Fisher's "distinguished career" at the central bank. "He has been a true pioneer of the modern bank," Carney said in a statement on the BOE's Twitter account. "I have particularly valued his guidance and advice on a range of topics, from market liquidity to climate change."
Nelson, who has also been at the bank for more than a quarter of a century, "has a strong background and experience in risk management, regulation, economics, finance and public policy," according to the BOE website.
The news of Fisher's retirement comes after the announcement last month that PRA Chief Executive Andrew Bailey would take charge of the Financial Conduct Authority.
"This is certainly a period of change at the top of the PRA, but my feeling is that the government will probably be keen to see the PRA continue on the much the same course as it has been on, as it has generally been seen to have being doing a good job," said Richard Reid, a research fellow for finance and regulation at the University of Dundee in Scotland.
"In a recent speech Fisher accepted the possibility that in the pursuit of greater financial stability, there may have been an element of over-regulation," Reid said. "It's likely then that the new leaders of the PRA will still have to deal with the full implementation of many of the new rules, but focus more perhaps on their consequences and the challenges which lie ahead for the financial system."
Before it's here, it's on the Bloomberg Terminal.
LEARN MORE