Americans Spending Through Market Slump Bodes Well for Economy
By
Retail sales `control group' climbed by most since May

Sentiment falls, though households remain upbeat on finances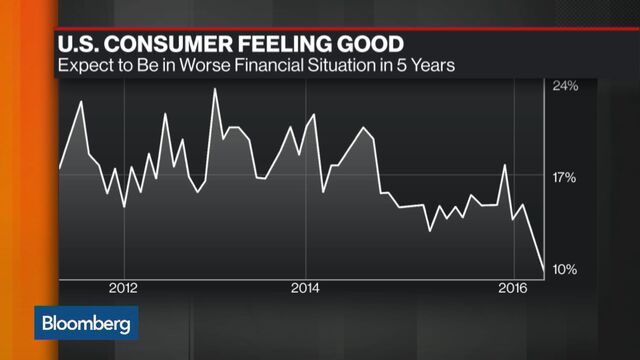 Consumers may be a little shaken by the stock market, but America's retailers wouldn't know it.
Retail sales got off to a decent start this year, climbing 0.2 percent in January to match the previous month's advance that was initially reported as a decline. And while the plunge in equity values helped send the University of Michigan's preliminary sentiment index to a four-month low in February, households remained upbeat about their finances because they expect inflation to remain muted.

The fact that households are spending through the market volatility bodes well for first-quarter growth, which is riding heavily on consumption as softness abroad and a strengthening dollar weigh on other parts of the economy. Friday's figures may also provide some reassurance for Federal Reserve policy makers following criticism that the central bank's decision to raise its benchmark interest rate last month was premature.
"It confirms the view that they gave us with Yellen's testimony earlier this week, which is that global volatility does tighten financial conditions, it does present some downside risks for the economy, but they're only risks," said Tom Simons, a money-market economist at Jefferies LLC in New York. "They aren't producing negative outcomes yet, so the best strategy right here is patience and evaluating how things develop."
Yellen Testimony
In semiannual testimony to Congress on Thursday, Fed Chair Janet Yellen said the central bank was assessing the impact on the economy from the swings in financial markets. The yearlong decline in global equities that started with a selloff in energy became a full-blown bear market Thursday, as losses in the broadest worldwide gauge extended past 20 percent.
Still, Yellen doubted that the volatility would prompt the Fed to roll back its December rate hike. Officials have said future increases will depend on economic data.
Though the University of Michigan report's gauge of current conditions fell to the lowest since November, the share of households reporting that their financial situation had improved rose to a six-month high of 45 percent.
A steadily improving labor market, higher incomes and low inflation are underpinning consumers' ability to spend. The report showed Americans expected the inflation rate over the next five to 10 years to be 2.4 percent, down from 2.7 percent in January and the lowest in records to 1979, when the survey began asking about price expectations.
Time to Spend
The Michigan report corroborated some of the data from the Bloomberg Consumer Comfort Index. In that survey, attitudes about whether it was a good time to spend advanced in the week ended Feb. 7 to the highest in nine months.
Consumer spending "is pretty much market-agnostic," Simons said. "It's easy for us in our own little fishbowl to think that the stock market dictates everything, but I don't think that it really does, and this data is proof of that."
The retail sales figures used to calculate gross domestic product, which exclude categories such as food services, auto dealers, home-improvement stores and service stations, increased 0.6 percent last month, the most since May.

The gain prompted economists to give upbeat assessments for first-quarter consumption. Morgan Stanley now sees personal expenditures climbing at a 2.9 percent annualized rate, up from a 2.4 percent pace before the report. Michael Feroli, chief U.S. economist at JPMorgan Chase & Co., sees spending tracking at a 3.1 percent rate. Consumption climbed at a 2.2 percent pace in the fourth quarter, Commerce Department data show.