Yellen Re-Examining Negative Rates; Top Lawmaker Doubts Legality
by and
Fed chair `wouldn't take those off the table' as option

Senate panel head Shelby wants to confirm Fed can't use tool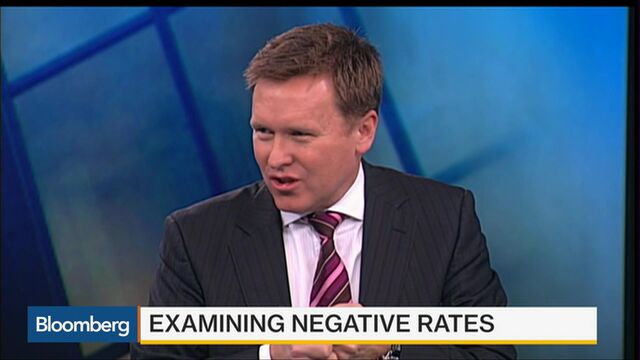 A top U.S. lawmaker questioned the Federal Reserve's authority to cut interest rates below zero after Janet Yellen disclosed that the central bank was re-examining the tool as a policy option if the economy faltered.
QuickTake Negative Interest Rates
The Fed chair was asked during two days of congressional testimony to clarify her views on pushing borrowing costs below zero in the U.S., which some investors see as increasingly likely amid a darkening outlook for global growth that has panicked financial markets.
"We had previously considered them and decided that they would not work well to foster accommodation back in 2010," Yellen told the Senate Banking Committee Thursday. "In light of the experience of European countries and others that have gone to negative rates, we're taking a look at them again because we would want to be prepared in the event that we needed to add accommodation."
Yellen said that she wasn't aware of any law that would prevent the Fed from imposing negative rates. Richard Shelby, a Republican from Alabama who chairs the Senate banking panel, had a different view.
Legal Doubt
"The Fed generally interprets the law to their advantage," he said in an interview Thursday in Washington. "We will have our counsel look into it. That's the question. I would doubt it, but I haven't personally checked it," he said when asked if the authority exists under current law that Congress passed in 2006 and 2008.
When the law was written, negative interest rates weren't part of the toolkit of major central banks. Shelby said Thursday that the idea wasn't contemplated at the time. The law's language says the Fed is being authorized to "pay interest on reserves."
Yellen's comments Thursday added some more color on the state of the internal debate at the Fed to her remarks the previous day before the House Financial Services Committee, as lawmakers pressed for clarity on negative rates amid global financial market turmoil.
U.S. stocks fell on Thursday, with the Standard & Poor's 500 Index dropping 2.1 percent, poised for a fifth day of declines in the longest losing streak since September. The index is down about 15 percent since an all-time high set in May.
A 2010 Fed staff memo posted on the central bank's website late last month showed Fed economists grappled with a number of issues related to implementation of negative rates at the time, including possible legal obstacles. Yellen said Thursday that negative rates might be legal, but the question remained open to further examination.
"I am not aware of any legal restriction that would mean that we could not establish negative rates, but I will say that we have not looked carefully at the legal side of this," she said Thursday.
Since 2010, the European Central Bank, the Bank of Japan and others have cut their benchmark rates below zero to provide their economies additional stimulus. Trading in eurodollar options shows investors have become increasingly cautious since the beginning of the year that the Fed might be forced to follow suit if the U.S. economy stalled.

Yellen said the Fed's intention in December, when it raised its benchmark federal funds rate for the first time in nearly a decade, was to "gradually, gradually continue to raise rates -- not to cut them."
"A lot has happened since then," she said. "But I have not thought that a downturn sufficient to cause the next move to be a cut was a likely possibility, and we've not yet seen, I would say, a shift in the economic outlook that's sufficient to make that highly likely."
Yellen Surprise
The 2010 Fed staff analysis of negative rates suggested the central bank may only be able to reduce its benchmark deposit rate -- the rate of interest on excess reserves, or IOER -- to minus 0.35 percent before banks withdrew cash from the Fed and held it as currency instead. Yellen said she was "surprised that it was possible to move rates as negative" as other countries have done since then.
Senators pressed the Fed chair over whether imposing negative rates would amount to a tax on savings and hamper bank profitability.
"There may be some experiences there that I'm not aware of, but I don't think there's been broad-based pass-through of negative rates to at least small depositors," she said, referring to the European experience. However, banks' "margins have been squeezed -- a low-interest rate environment generally tends to push down net interest margins."
An analysis published by JPMorgan Chase & Co. economists this week suggested the Fed may be able to reduce short-term interest rates to as low as minus 1.3 percent. Yellen said the central bank's work on the feasibility of sub-zero Fed rates was ongoing.
"We haven't finished that evaluation," Yellen said. "We need to consider the U.S. institutional context and whether they would work well here. It's not automatic. There are a number of things to consider. So I wouldn't take those off the table, but we would have work to do to judge whether they would be workable here."
Before it's here, it's on the Bloomberg Terminal.
LEARN MORE