U.S. Says Anti-Islamic State Alliance Will Step Up Attacks
by and
90% of coalition members made pledges at Brussels meeting

Netherlands to carry out first attacks on Syrian targets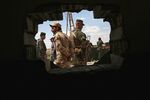 Most members of the U.S.-led coalition against Islamic State militants agreed to intensify their campaign, U.S. Defense Secretary Ashton Carter said, as defense ministers from 49 countries met to discuss how to retake the group's strongholds in Syria and Iraq.
"Nearly 90 percent of the countries participating in the coalition's military campaign have stepped up to do more," Carter told reporters in Brussels on Thursday. The pledges involve airstrikes, special forces and logistics, with the Netherlands saying it will extend its air attacks to Syria, Carter said.
Alongside the military talks, U.S. Secretary of State John Kerry and his Russian counterpart Sergei Lavrov met foreign ministers from European and Middle Eastern nations in Munich to try to revive negotiations between Syria's government and opposition. The talks broke down last week as Russian planes carried out their heaviest attacks in Syria yet, backing an advance by President Bashar al-Assad and his allies on the city of Aleppo.

Carter sought to shame coalition members into doing more to defeat Islamic State, without singling out any country.  
"The campaign will go even faster if all the nations in this room do more, too," Carter said in his opening comments. "We will all look back after victory and remember who participated in the fight."
Growing Commitments
France, Australia, Britain, Italy, Germany, Canada and the Netherlands have stepped up their engagement, while the Czech Republic, Poland, Romania and Denmark made additional commitments Thursday that need to be confirmed by their national parliaments, Carter said. He also cited Saudi Arabia's announcement that its special forces could operate against Islamic State.
North Atlantic Treaty Organization Secretary General Jens Stoltenberg said earlier Thursday that the alliance had decided "in principle" to dispatch AWACS planes from their German base to North America to free up U.S. planes to operate in the Middle East. The meeting of the anti-terror coalition was held at NATO headquarters, though it wasn't under NATO's auspices.
The coalition isn't looking to send ground troops, Carter said, as it seeks to defeat Islamic State militants in Mosul in western Iraq and Raqqa in eastern Syria.
"At the end of the day, territory taken from ISIL has to be occupied and governed by people who are from that area," he said, using an alternative name for Islamic State.
IS Retreat
The area under Islamic State control shrank 14 percent in 2015, according to consultants IHS Janes, as the militant group lost ground to Kurdish forces in northern Syria and to the Iraqi army around Tikrit -- both with air support from the U.S.-led coalition -- while it gained around Palmyra in central Syria at the expense of the Assad regime.
The anti-Islamic State coalition has expanded since June 2014 when the U.S. flew airstrikes to block an IS onslaught in western Iraq, growing to 66 countries by the end of the year as Arab nations, France and others joined. Carter on Wednesday urged a greater NATO role, such as using the alliance's system for putting together multinational forces.
Before it's here, it's on the Bloomberg Terminal.
LEARN MORE