Timeliest U.S. Data Show Economy Not at Risk as Stocks Crumble
by
Applications for jobless benefits fall to seven-week low

Consumer confidence hovers near highest in three months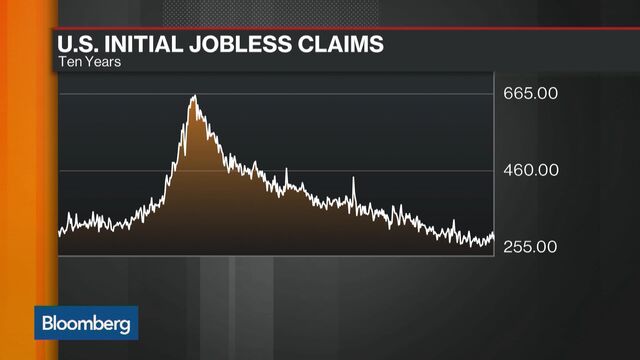 At least through last week, the U.S. economy was showing no sign of succumbing to the slump in financial markets.
Jobless claims dropped to an almost two-month low of 269,000 in the period ended Feb. 6, according to Labor Department data published Thursday. Meanwhile household confidence held near a three-month high at the start of February, the Bloomberg Consumer Comfort Index showed.

With the Standard & Poor's 500 Index down 11 percent so far in 2016 and Treasury yields touching three-year lows, concern is growing that financial-market stress will translate into an economic downturn. Those fears so far have been unsupported by the high-frequency data that's trusted to monitor the pulse of the economy. 
After a fourth-quarter slowdown, analysts still expect a rebound in growth as households benefit from steady hiring, few firings and cheap gasoline.
"I don't see consumers shaken by market events enough to stop spending," said Dean Maki, chief economist at Point72 Asset Management LP in Stamford, Connecticut. "Most consumers don't tie their day-to-day spending to the stock market, so even though they may know the stock market's down, they may not be canceling dinner plans as a result."
The labor market is likely to thank for that, as companies have expanded headcounts at a solid clip for much of the last two years. The unemployment rate fell to an eight-year low last month and payrolls climbed by 151,000. While job growth in January was less than expected, the increase followed a fourth quarter that saw employers adding an average 279,000 workers per month.
Job Openings
Even less-timely data depict improving conditions. Job openings climbed in December to the second-highest level on record, and the quits rate, which shows the willingness of workers to leave their jobs, rose to 2.1 percent, the highest since April 2008.
"Across the board we are seeing tightening in the labor market," Maki said. "That doesn't mean that will continue forever, but I don't see the catalyst that would cause consumers to stop spending."
Even so, recession fears have mounted amid the selloff in equities, which has been exacerbated by plunging oil prices and weakening credit markets. The median probability for a U.S. recession in the next 12 months climbed to 20 percent in this month's Bloomberg survey of economists, the highest since early 2013.
| | | | | | | | |
| --- | --- | --- | --- | --- | --- | --- | --- |
| | Feb | Jan | Dec | Nov | Oct | Sept | Aug |
| Median | 20% | 19% | 15% | 15% | 15% | 10% | 10% |
| Average | 22% | 18% | 15% | 15% | 16% | 13% | 11% |
| High | 60% | 60% | 30% | 60% | 60% | 50% | 30% |
| Low | 5% | 1% | 0% | 1% | 1% | 1% | 4% |
Federal Reserve Chair Janet Yellen, in her semiannual testimony to Congress on Wednesday, was more sanguine about the economy's prospects. The U.S. central bank raised interest rates in December for the first time in almost a decade, and officials have said that economic data will guide future decisions.
"While there is always some risk of recession -- and I recognize and have just stated that global financial developments could produce a slowing in the economy -- I think we want to be careful not to jump to a premature conclusion about what is in store for the U.S. economy," Yellen said.
Before it's here, it's on the Bloomberg Terminal.
LEARN MORE