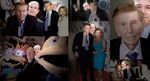 On the morning of Friday, Jan. 29, Stephen Read, a geriatric psychiatrist, paid a visit to the Beverly Hills mansion of Sumner Redstone, the 92-year-old media mogul. Under a court order, Read had been granted up to one hour to test Redstone's mental competency on behalf of a client, who was suing the billionaire.
Days later, with the results of the psychiatric exam still under seal, Redstone resigned as executive chair of CBS and Viacom, the media conglomerates that he controls through his privately held company, National Amusements. For months, amid conflicting reports about his health, pressure had been mounting for Redstone to step down. The board of directors at CBS seemed well-prepared. On Feb. 3 it elected the company's longtime chief executive officer, Leslie Moonves, to replace Redstone. The vote was unanimous. There was no drama.
At Viacom, on the other hand, things exploded. The news of Redstone's abdication touched off a fierce power struggle, pitting Redstone's daughter, Shari, against Viacom's CEO and—as of Feb. 4—chair, Philippe Dauman. At stake isn't only control of Viacom—a $14 billion corporation that owns MTV, Comedy Central, Nickelodeon, and Paramount Pictures—but also Redstone's legacy, not to mention his sizable personal fortune, valued at more than $5 billion. It promises to be one of the most tangled and protracted succession fights since the Jin dynasty's War of the Eight Princes.
Among the megafauna that roamed the executive suites and boardrooms at media conglomerates in the past half-century, Redstone had few equals. He was a masterful dealmaker, who over a quarter-century pulled off several improbable acquisitions, building a media superpower that spanned broadcasting, cable TV, and movies. He presided over a freewheeling creative environment that routinely cranked out zeitgeist-defining franchises—SpongeBob SquarePants, Beavis and Butt-head, The Real World, The Daily Show, South Park.
The Redstone succession saga has been unfolding for decades. Questions about his health have come up at least since the 1990s, and his response has always been a variation on how he plans to live forever. This latest, if not final, chapter began on the morning of Nov. 13, 2014, when Redstone joined a routine conference call with the analysts who cover the company. At the start of the proceedings, he wished everyone good morning. His words were faint, slurred, barely audible. He sounded ill.
After the call, word spread among analysts and investors that the end might be near. Viacom and CBS could soon be in play. As the speculation grew, a Viacom spokesperson eventually addressed the issue, telling the New York Post in early December 2014 that "Sumner Redstone is as sharp as a tack, and he's looking forward to watching the Patriots beat the Chargers on Sunday."
Redstone, once a common sight at parties and premieres in Hollywood and Manhattan, slipped from public view. In March 2015, for the first time in years, he missed Viacom's annual shareholder meeting. In May he missed CBS's. Concern among investors intensified. While CBS was doing well, Viacom was not. (CBS was spun off from Viacom in 2005.) By the time Viacom presented its fiscal year results in November 2015, it was on the verge of a crisis. Ratings were way down at its major cable networks. Annual revenue dropped 4 percent. Net earnings were down 7 percent, the stock price nearly 44 percent.
When reporters approached the company inquiring about Redstone's health, they were directed to Tom Dooley, chief operating officer and loyal No. 2 to Dauman. In June, Dooley assured a writer from Vanity Fair that while Redstone was suffering from a jaw problem, which made speaking difficult, his mind was as crisp as ever. "He's sharp as a tack," said Dooley.
Of all the executives, entertainers, lawyers, toadies, jesters, sirens, and hangers-on who make up Redstone's retinue, no one has remained as close to the throne for as long as Dauman. Through a spokesman, he declined to be interviewed for this article.
When they first met in the 1980s, Dauman, now 61, was a corporate lawyer in New York, and Redstone a movie theater magnate with an appetite for takeovers. The reliable young attorney and the emotionally volcanic client hit it off, developing a father-son-like relationship. As Redstone fought with his biological children and churned through a series of top executives, wives, and girlfriends, Dauman stood by his side. By 1993, Dauman was Viacom's general counsel and had a seat on the board. In 2006, Redstone made him CEO.
It's a lucrative perch. Last year, even as Viacom faltered, Dauman's total annual compensation rose 22 percent, reaching $54 million. He rules over Viacom in a risk-averse style, avoiding the spotlight and keeping the press at arm's length. While many top entertainment executives pride themselves on their creative instincts or their deft management of capricious stars, Dauman's strengths lie elsewhere. In a 2014 interview with Barron's, he boasted about his analytic abilities and proficiency with math (he got a perfect SAT score). One of the keys to his success, he said, has been his ability to read his opponents and anticipate their moves. It was a skill he honed playing competitive poker, chess, and backgammon—the latter of which he played professionally after college. "If you are prepared, you know your backup position. You can see many moves ahead, and you can do the give-and-take more effectively," he told Barron's. "In a lot of situations, someone is bluffing."
As Viacom struggled, some investors began to clamor for a management shake-up and Dauman's firing. But for anyone to get rid of him, Redstone would have to go first. In the meantime, Dauman and his team kept assuring anybody who asked that Redstone wasn't going anywhere. Sharp as a tack.
 
 
Last fall, Redstone signed an "advance health-care directive," naming Dauman as the agent in charge of his medical decisions should he become incapacitated. What might have seemed like a relatively minor change in estate planning has had huge implications. Before Dauman's designation, the role of Redstone's health-care agent belonged to Manuela Herzer. Redstone and Herzer, now 52, dated for a couple of years beginning in 1999. They broke up but eventually reconciled and became close friends. For the last several years, Herzer had lived in Redstone's Beverly Hills mansion, helping look after his medical care and attend to his personal affairs. In October, after an apparent disagreement, Redstone kicked Herzer out of his home and handed official health-care duties to Dauman. Herzer prepared for battle.
On Nov. 25 she filed a lawsuit in Los Angeles County Superior Court, seeking to reverse her removal as Redstone's health-care agent. She alleged that Redstone was incapable of making such a decision because he was no longer of sound mind. She then set out to destroy the notion, coming out of Dauman's camp, that Redstone was mentally fit.
In 2014, according to Herzer's complaint, before Redstone's alarming conference call, he'd been hospitalized several times for pneumonia, resulting in significant respiratory issues. His deteriorating condition, she stated, was further exacerbated by a subsequent breakup with Sydney Holland, his much younger, live-in girlfriend. Herzer alleged that the combination of physical ailments and emotional anguish had left Redstone a shadow of his former self—a "living ghost."
Herzer left little about life inside Redstone's mansion to the imagination. She claimed Redstone was incontinent, had to be carried from room to room, and ate through a feeding tube. As his health declined, he lost interest in his collection of tropical fish. His memory grew faulty. He stopped reading. He was determined to eat steak even though he could no longer chew. He suffered from spontaneous bouts of crying.
Heidi MacKinney, another former lover, provided a declaration for the suit, alleging that for a stretch during the fall of 2015, she'd visit Redstone at his home and have sex with him while a male nurse stood by choreographing the action. "My final two visits were especially troubling," she stated. "I asked Sumner if he wanted to have sex. He made no response to my proposal. This was highly unusual for Sumner. It was as if he did not understand what was happening." Read, the doctor specializing in geriatric psychiatry and working on behalf of Herzer, argued in an additional declaration that complications from pneumonia had likely left Redstone with "impaired brain function." He recommended that the court order a psychiatric evaluation.
Redstone's lawyers responded that the suit was without merit and sought to have it dismissed. They argued in court filings that Herzer was motivated by her "personal financial agenda." They noted that Redstone was receiving the best medical care money could buy and cited an evaluation from his physician, Richard Gold, that Redstone was capable of making his own decisions and that "his spirits were good." In a declaration to the court, Dauman said he'd recently visited Redstone at home twice and found him "as engaged, attentive and opinionated as ever."

 
 
Not all Viacom investors were reassured. On Dec. 2, Mario Gabelli, whose investment firm, Gamco Asset Management, holds about 10 percent of Viacom's voting stock, wrote on Twitter that Viacom's directors should inform investors of what they knew about Redstone's condition. In response, William Schwartz, chairman of Viacom's governance and nominating committee, released a statement saying Redstone was "mentally capable."
Shortly thereafter, Dauman appeared onstage at the annual UBS Global Media and Communications Conference in New York. When asked about Redstone's health, Dauman responded that there had been "a lot of misinformation" and "hyperventilation" surrounding the subject. "I talk to Sumner frequently, several times a week," he said. "He has an incredible will to live and an enjoyment of life with some physical disabilities."
On Jan. 19 investor E.F. Greenberg filed a lawsuit in Delaware Chancery Court, accusing Viacom and CBS directors, including Dauman, of wasting resources by paying Redstone millions of dollars a year while knowing he's unable to perform his duties as chairman. The suit demanded repayment and that the companies' directors enact a plan for succession. Viacom responded that the suit was without merit, and CBS declined to comment.
The same day, Eric Jackson, an activist investor with SpringOwl Asset Management, which owns an undisclosed number of Viacom shares, posted a 99-page presentation online, assailing the "lost decade" under Dauman. The takedown was savage. Jackson argued that Dauman had sped up Viacom's "destruction" by heavily licensing its children's programming to Netflix in 2011, training a generation of kids to get their entertainment ad-free from streaming services rather than from Nickelodeon. He knocked Dauman for suing YouTube for copyright infringement in 2007 rather than helping his company master its vast, creative potential. He called Viacom a "creatively bankrupt culture" that had failed to retain top programming executives. At the same time, he knocked Dauman for failing to make any meaningful digital acquisitions, leaving the company vulnerable to the changes sweeping the viewing habits of young people. He called the combined compensation of CEO Dauman and COO Dooley—who together had taken home $432 million over the past five years—"astonishing."
The solution, Jackson argued, was for Redstone and Dauman to step down and for the company to replenish its board. With new management, Viacom could jump-start its creative culture, cut its bloated operating expenses, and explore strategic options. He suggested Viacom should consider selling a piece of Paramount Pictures to Alibaba, the huge Chinese e-commerce company, and look into a potential merger of its assets with AMC Networks.
In the presentation, Jackson included a still from the 1989 comedy Weekend at Bernie's, in which two happy-go-lucky numskulls discover that their rich boss has died and proceed to trick everyone into believing that he's still alive while helping themselves to his fortune. In the image, the numskulls sit on beach chairs sipping tropical drinks while holding up the arm of their dead boss, making him wave to the world.
"With Sumner Redstone absent for the last few years, and with Dauman effectively in control of his trust, it's been a perfect setup for Dauman and Dooley to keep paying themselves enormous cash compensation at the expense of shareholders," wrote Jackson. "The ideal scenario for Dauman and Dooley is that Sumner lives forever (as he's promised to do), and they keep raking it in."
Viacom responded in a statement that its board and management team "are completely focused on delivering long-term value to shareholders" and are looking "to the future and the opportunities ahead."
 
 
The best hope for investors like Jackson, who are pushing for a total fumigation of Viacom's executive suite, rests with Redstone's 61-year-old daughter, Shari. Over the years, Shari and her father have publicly clashed and reconciled over such an intricate array of grievances that even the most devoted Viacom Kremlinologists struggle to keep track. Redstone has an actual son, Brent, 65. In 2006 he sued Sumner and Shari. That ended with National Amusements buying out his stake in the company.
Despite the family turbulence, Shari has maneuvered herself into a powerful position within the Redstone empire. She's the president of National Amusements, the private theater-chain business that holds controlling stakes in Viacom and CBS; she's a member of its board; and she owns 20 percent of the company (her father owns the rest). She serves as the vice chair on the boards of Viacom and CBS. She will serve as one of seven members of an irrevocable trust that eventually will oversee her father's 80 percent stake in National Amusements. Dauman will also serve on the trust, as will four other lawyers with ties to the family.
Redstone's daughter and his corporate surrogate son are similar in other ways. Like Dauman, Shari is a lawyer who avoids the limelight. They're the same age, share the same guarded temperament, and can often seem more passionate about high-level corporate strategy than the minutiae of day-to-day operations. In addition to serving as president of National Amusements, Shari runs Advancit Capital, a venture fund that invests in early-stage technology, media, and entertainment startups. Dauman, too, has dabbled in media and telecommunications investing.
Lately there had been hints that Shari was losing patience with Dauman. "I know how respectful she is to Les in particular," her friend James Packer, the Australian casino billionaire, told Bloomberg News last summer. "Philippe with Viacom is going through some issues."


 
 
On Wednesday, Feb. 3, Shari released a brief statement. "It is my firm belief," she wrote, "that whoever may succeed my father as Chair at each company should be someone who is not a Trustee of my father's trust or otherwise intertwined in Redstone family matters, but rather a leader with an independent voice." It wasn't hard to decode: Shari wanted to block Dauman's ascension.
The following morning, Viacom's board met via conference call to decide who would replace Sumner as chair. They voted 10 to 1 in favor of Dauman. The lone dissenting vote was cast by Shari. If Dauman was worried about the vote—or about the Weekend at Bernie's jokes made at his expense—he didn't show it. He called into the meeting from St. Barts, where he was on vacation.
"Philippe has been instrumental with Sumner in every aspect of Viacom's success for nearly 30 years," Schwartz, the chairman of the board's governance and nominating committee, said in a statement afterward. "We believe his becoming executive chairman is in the best interests of the company and all shareholders." An additional factor that may have nudged the board in Dauman's favor: According to Securities and Exchange Commission filings, Dauman's contract contains a clause requiring Viacom to pay him roughly $88 million in additional compensation if he didn't succeed Sumner as chair.
Those hoping for a hasty Viacom overhaul howled with displeasure. "It raises questions about the board, corporate governance, and fiduciary duties," wrote Jackson in an e-mail to the media after the vote. A spokesperson for Shari put out a statement saying she would "continue to advocate for what she believes to be in the best interests of Viacom shareholders."
"There's a lot of bad sentiment about Philippe and the job he's done—I'm not in that camp," says Sal Muoio, founder of S. Muoio & Co., an asset-management firm that has less than 1 percent of Viacom's voting stock. "They're in a tough position given the demographics of their viewers. Things affect them more, first. I tend to be more patient."
"Philippe has nine months to say what he is going to do differently," says Gabelli. "Talking ratings improvements isn't going to work."
In early January, Shari gave a declaration to the court in L.A., in support of her father's case to dismiss Herzer's lawsuit. She stated that since her father kicked Herzer out of his home in the fall of 2015, Shari has reunited with him and they've patched up their differences. Since November, she'd spent 39 days visiting with him at his home. Likewise, her three children had been able to reconnect, she said, with their "beloved Grumpy." It was her belief, she stated in her court declaration, that since 2009 Herzer had received more than $70 million in cash and assets from Redstone's estate.
Pierce O'Donnell, an attorney for Herzer, responded by calling Shari's declaration "a fictional account of her relationship with her father." "The truth is that Manuela Herzer was a devoted, loyal, and caring friend of Sumner Redstone for almost two decades," he wrote. "The attacks on her are baseless and transparent attempts to obfuscate the truth about Mr. Redstone's tragic mental incapacity and manipulation." In court documents filed on Feb. 9, Redstone's lawyers revealed that on the same day in October that he stripped Herzer of her health-care duties, Redstone also changed his estate plan, redirecting $50 million and eventual ownership of his mansion in Beverly Hills from Herzer to a charitable foundation. Her attorney responded with a statement declaring that for Herzer "this case has never been about money" and calling the disclosure a "flagrant, intentional violation" of her privacy.
 
 
In a letter dated Dec. 18, Redstone instructed Dauman that when executing his late-stage health-care directive, he should take into account Shari's input "as if she were acting with you as a joint health-care agent." She and Dauman were already poised to sit across from one another on the seven-member trust. But now, just to further complicate matters, they will both have a hand in determining Redstone's end-of-life care.
Meanwhile, score Round 1 for the backgammon enthusiast. Dauman's reward, for now, is getting more time to fix the company he's led for the past decade. He could also potentially push for its sale. For years, there's been talk of remerging CBS with Viacom. Moonves and Dauman have always shot down that possibility. Given the consolidation in the TV programming market, there could be other suitors, such as AMC Networks or Time Warner.
On Feb. 9, Viacom reported its latest earnings. During the first quarter ended Dec. 31, overall sales fell 6 percent, to $3.15 billion. Adjusted profit declined 9 percent, to $1.18 per share. Domestic ad sales fell 4 percent. The company touted a new deal in which it will add programming channels to, and sell advertising on, Snapchat, the mobile messaging app popular with teens.
The company's stock, already down 53 percent since its peak in March 2014, fell more than 21 percent by the end of the day. On a conference call with investors, Dauman was defiant, vowing to prove critics wrong. "Our outlook and the facts have been distorted and obscured by the naysayers, self-interested critics, and publicity seekers," he said. "We will not be distracted or deterred as we build for the bright future ahead of us."
—With Chris Palmeri and Lucas Shaw
Before it's here, it's on the Bloomberg Terminal.
LEARN MORE