Tesla's Elon Musk Sets March Unveiling of BMW-Fighting Model 3
by
Timing of mass market raison d'etre assures investors

Musk: Model 3 reservations ($1,000 down) accepted March 31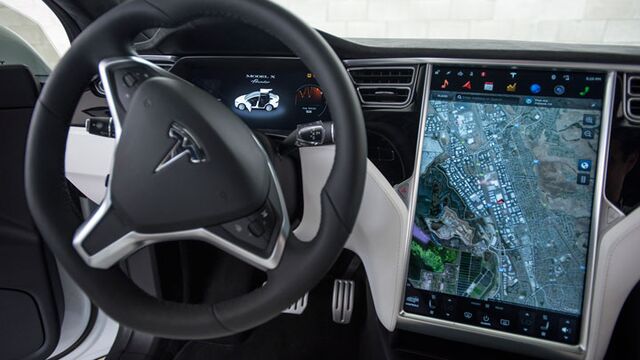 Tesla Motors Inc. jumped Thursday thanks to assurances that it's on track with development of its long-awaited Model 3, the company's mass market raison d'etre.
Tesla said the Model 3 would be unveiled on March 31, the first time the company has set a date for the event, and reiterated that it will start production and deliveries in late 2017. Given Tesla's history of product delays and overly optimistic guidance, combined with the fact that General Motors Co. will roll out its all-electric Chevrolet Bolt later this year, that was good news for the nation's youngest, and smallest, publicly traded automaker. The shares rose 4.7 percent to $150.47 at the close in New York.
Chief Executive Officer Elon Musk needed some good news for stockholders, who had been shedding shares amid fear that cheap gasoline and competing electric cars would undercut sales. While affirming that the Model 3 is on schedule, Musk also said that sales will be better than expected this year and that money-losing Tesla is "in striking distance" of positive cash flow.
"We're really looking forward to the unveiling of the Model 3 at the end of next month," Musk said during the fourth-quarter earnings call Wednesday. "I think it will be well received, and then getting into production and delivery at the end of next year."
Musk said in a tweet last night that Tesla will take deposits of $1,000 for a Model 3 starting in showrooms on March 31 and online on April 1.
Tesla is pinning its hopes of getting out of the red and into sustainable profitability on the Model 3, whose lower price will broaden its appeal to more buyers. The Model 3 will have a price tag of roughly $35,000 before incentives like the federal tax credits or state rebates, but Tesla will initially roll out a highly optioned version, as it did with its Model S sedan and Model X SUV.
Taking on BMW
Musk said the Model 3 will be an electric alternative to small luxury cars from Audi and BMW rather than a competitor to the Chevy Bolt. GM will sell the Bolt, which will go more than 200 miles on a single battery charge, for as low as $30,000 after tax credits. Though the Model 3 will be similarly priced, Musk is already trying to position it as a higher-end car than the Bolt.
"You should think of the Model 3 as sort of really competing in kind of the BMW
3 series or Audi A4 market," Musk said.
The 3 series and A4 can easily sell for more than $40,000 with options.
'Master Plan'
With Model 3, Tesla was able to take more time and engineer the car to be easier to build, Musk said. The car is 20 percent lighter and less complex to manufacture than the Model S, he said. 
"The Model S was really the first car we ever made ourselves," he said. "So we were designing to make it work as opposed to designing for ease of manufacturing, whereas the Model 3 is really designed for ease of manufacturing."
Nearly a decade ago, in August 2006, Musk published "The Secret Tesla Motors Master Plan," a blog post that spells out the strategy of entering the auto market at the high end and then moving down market with higher volumes and lower prices.
"In short, the master plan is: Build sports car. Use that money to build an affordable car. Use that money to build an even more affordable electric car. While doing above, also provide zero-emission, electric power generation options," wrote Musk.
Bad Seals
Tesla began selling the Model S in June 2012 and added the Model X to its lineup in September of last year. The Palo Alto, California-based company struggled with supply and parts issues, from the complexity of the Model X's "Falcon Wing" doors to second-row seats to problems with the chrome finish and seals on the panoramic window. 
"The seals have been a huge pain," said Musk Wednesday. "I mean, essentially the seals had to be redesigned, and then the seals that we did have had to be reworked by hand in order to sort of fit correctly."
Despite those issues, Tesla now expects to deliver 80,000 to 90,000 cars in 2016, topping the average analyst estimates for 76,200 deliveries.
"It doesn't sound like they have the Model X completely figured out from a production standpoint, but they can get there," said Ben Kallo, an analyst with Robert W. Baird & Co., in an interview Wednesday. "The Model 3 time line of late 2017 is really important. Investors want to see them stick to time lines after numerous delays with the Model X."
Quarterly Loss
Tesla reported almost $1.2 billion in cash and equivalents at the end of the fourth quarter. That was down $229 million, or 16 percent, from three months earlier. The company said it expects that its cash balance will increase this year from the end of 2015 and that it won't need to raise more money.
Excluding some items, the company lost 87 cents a share, compared with the average analyst estimate for a 10-cent profit. Tesla said its fourth-quarter loss excluding some items widened to $113.9 million from $16.2 million a year earlier. For the full year, the loss on that basis was $294.9 million, compared with profit of $20.1 million for 2014.
Quarterly sales, including revenue deferred due to lease accounting, were $1.75 billion, Tesla said. That missed the $1.81 billion average of analyst estimates compiled by Bloomberg.
Tesla had lost more than $12 billion in value this year before today's rise.
"It's the same but still amazing story for Tesla," said Michelle Krebs, a senior analyst at Autotrader. "It misses its financial numbers, promises better future performance and shifts attention to upcoming model introductions -- and its stock rises. What seems counterintuitive has become predictable."
Before it's here, it's on the Bloomberg Terminal.
LEARN MORE