Swiss Gear Up to Vote on Tough Stance for Foreign Criminals
by
Ballot on 'enforcement initiative' to be held on Feb. 28

Referendums are part of Swiss tradition of direct democracy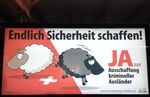 Switzerland is about to vote yet again on foreigners, this time on whether to kick out those convicted of certain crimes. The justice minister says it's "inhumane," but polls suggest it's going to be a close call.
QuickTake Switzerland's People Power
Up for a ballot on Feb. 28 is whether authorities should be required to expel people found guilty of offenses such as murder, rape and armed robbery without regard for a defendant's personal circumstances. Those with a prior criminal record would face expulsion for lesser infractions, including threatening a police officer.
The "enforcement initiative" is sponsored by the anti-immigrant Swiss People's Party, or SVP, and includes posters that feature a white sheep kicking a black sheep off a Swiss flag. After votes in 2010 and 2014, the latest takes place amid rising apprehension across Europe about an influx refugees from the Middle East and Africa. Sexual assaults involving asylum seekers in Cologne has underscored the unease.
"It's a system like soccer -- yellow cards and red cards," said Lukas Reimann, one of the SVP parliamentarians behind the initiative. "It's instances like those in Cologne. People want a stronger stance towards crime and security. Quality of life is suffering."
Direct Democracy
Plebiscites are a key feature of Switzerland's system of direct democracy, and are often held several times a year. 
According to a survey last month by gfs.bern for Swiss national broadcaster SRG, 51 percent of voters back the initiative and 42 percent are opposed. The poll had a margin of error of 2.7 percentage points. The government has recommended that voters reject the new proposal, while business groups warn the economy could be weakened.
"Switzerland has to think about the policies that made it an incredible country that was attractive for companies," said Novartis AG Chief Executive Officer Joe Jimenez. While the company probably wouldn't be directly affected, "it's an area that we're watching," he said.
Switzerland is already trying to sort out a dispute with the European Union related to a 2014 referendum requiring the government to cap immigration from the bloc. While an agreement to limit the number of EU newcomers seemed to have inched closer last year, the new vote could thwart negotiations. The current pact with the EU allows for expulsions only if a person is considered a "real threat" to public order.
Threatened Paradise
"It risks being a grain of sand -- or even a piece of gravel -- thrown into the wheels of these diplomatic discussions," Foreign Minister Didier Burkhalter said on Feb. 3. Justice Minister Simonetta Sommaruga has said the vote "jeopardizes two of Switzerland's biggest trumps -- legal security and stability."
About a quarter of Switzerland's 8.2 million residents aren't citizens. While opponents of the proposal say it won't make the country any safer, contradicts international treaties and upends due process of law, its supporters contend it will improve public order and put into force a 2010 initiative to deport foreign criminals they argue the government watered down.
"There's a desire for more safety, which you see across Europe and even in the U.S." with the Donald Trump campaign, said Claudio Zanetti, a member of parliament from the SVP. "From an economic perspective, there should be great interest in not having any criminals."

The earlier measure required the automatic expulsion of those convicted of serious crimes, but parliament added a provision giving judges leeway. Fully implemented, it would have resulted in the expulsion of 3,863 people in 2014, according to statistics office calculations. If the new law had been in place then, the number would have been more than twice as high.
"The immigration topic is something that preoccupies people a lot, because they're well off," said Michael Hermann, a political scientist who heads Zurich-based research institute Sotomo. It's "the idea that their paradise could be under threat."
Before it's here, it's on the Bloomberg Terminal.
LEARN MORE