Sweden Cuts Rates Deeper Into Negative Territory, Says May Go Further
by and
Size of rate cut only predicted by three of 18 analysts

Two board members enter reservation against cutting rates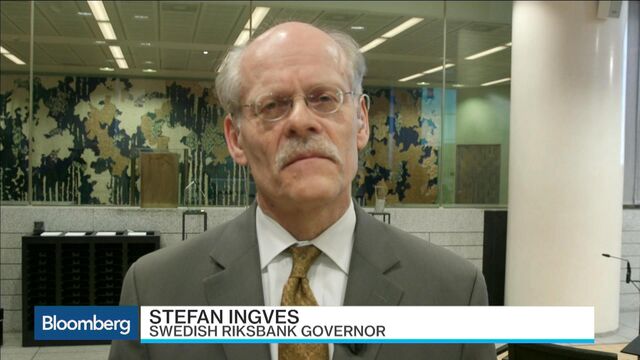 Sweden's central bank lowered its key interest rate even further below zero and said it's prepared to use its full toolbox of measures as it battles to revive inflation and keep the krona from appreciating.
The repo rate was reduced to minus 0.50 percent from minus 0.35 percent, the Stockholm-based bank said. A cut was predicted by 10 of the 18 analysts surveyed by Bloomberg, though only three had anticipated this magnitude. The bank said government bond purchases will continue as planned for the first six months of 2016 and that it "will reinvest maturities and coupons from the government bond portfolio until further notice."
"Uncertainty regarding global developments is still high, with low inflation and several central banks pursuing more expansionary monetary policy," the Riksbank said. "Swedish monetary policy must relate to this. Otherwise the krona exchange rate is at risk of strengthening at a faster rate than in the forecast, which would make it harder to push up inflation and stabilize it around 2 percent."
The krona slumped as much as 1.6 percent to 9.61 per euro, the lowest since August. The yield on Sweden's two-year note fell four basis points to minus 0.62 percent as of 10:52 a.m. in Stockholm.

Swedish policy makers have unleashed unprecedented stimulus over the past year to save the economy from deflation and keep the krona from appreciating. They were forced to respond as their colleagues at the far larger European Central Bank are also going all out to revive price growth and sustain an expansion across Europe.
The Riksbank so far has been able to stabilize inflation expectations in the years ahead, while current consumer price growth remains far below the target. Even though the economy expanded an annual 3.9 percent in the third quarter, underlying price gains slowed to 0.9 percent in December. Inflation by that measure has trailed the central bank's target for five years.
Policy makers, led by Governor Stefan Ingves, are being criticized from all sides. First for not doing enough and now for endangering financial stability. Economists at some of Sweden's largest banks argue that global forces outside the Riksbank's control make it virtually impossible for the central bank to reach its inflation target any time soon.
Bit Provocative
Critics, among them former Bank of England Governor Mervyn King, claim that more stimulus merely increases the risk that a housing market bubble may burst.
"It's a bit provocative that they so clearly are continuing this inflation hunt," said Andreas Wallstroem, an economist at Nordea Bank. "There are no signs whatsoever that they are becoming softer in that fight. A majority in the board still have their minds set on continuing."
QuickTake Negative Interest Rates
Their efforts probably won't be enough, according to Wallstroem.
"The headwinds are so strong with low inflation pressure and low wage increases," he said. "The weaker krona will help inflation a bit but that's a temporary effect."
There is also growing disagreement within the board, with Deputy Governors Martin Floden and Henry Ohlsson entering reservations against the decision to cut rates and advocating an unchanged rate.
Before it's here, it's on the Bloomberg Terminal.
LEARN MORE