business
Stevens Sits Tight as Global Market Turmoil Tests Aussie Outlook
By
Inflation unlikely to be a problem in next year or two

Greater uncertainty over intentions of Chinese policymakers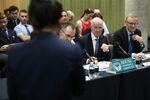 Australia has the flexibility to ease monetary policy further if that will aid the economy, central bank Governor Glenn Stevens said Friday as he gauged the sustainability of recent jobs growth and the impact of global market upheaval.
A "key question" is whether recent financial turbulence "will have a material negative effect on aggregate demand – in Australia or abroad," Stevens said in his semi-annual testimony to a parliamentary panel. "I don't expect that we will be able to answer that question for a little while yet."
The Reserve Bank of Australia held interest rates at a record-low 2 percent this month as a darkening global outlook contrasts with signs of an improving domestic economy. Market wobbles in China have seen its sharemarket tumble, capital flee at a record pace and the slowest expansion last quarter since 2009. That leaves Australia, the most China-dependent economy in the developed world, in a potentially vulnerable position.
"The Chinese economy has become more of a concern for many observers," Stevens told the panel in his opening statement. "The more recent anxiety is probably best described as greater uncertainty over the intentions of Chinese policymakers and over whether they will be able to carry off the economic transition China needs."
Bear Market
At an international level, world equities descended into a bear market Thursday as the Standard & Poor's 500 Index ended down 1.2 percent and Europe's benchmark fell to its lowest point since 2013. The MSCI All-Country World Index was down 20 percent from a record reached in May, the common definition of a bear market.
"Global financial developments are becoming more of a concern for the RBA," said Paul Bloxham, chief Australia economist at HSBC Holdings Plc. "It's been a China story, but it's becoming a European financial system story as well."
Stevens reiterated today that contained inflation in Australia gave the RBA "flexibility to ease further, should that be helpful." He also said that the "unexpected strength" of the local labor market could be temporary and leave the outlook unchanged, or may continue, in which case "the income gains coming from higher employment may start to feed into stronger demand growth."
Pressed further on policy direction during the question and answer session, Stevens said the RBA retained an easing bias. "It's, I think, pretty unlikely we're going to be raising rates any time soon," he said. "The question will be should we sit or go down some more, and that's been the question for some years now. So yes, if that's what we mean by a bias toward easing, then yes, that's correct."
Australia is grappling with a plunge in commodity prices due to waning Chinese demand and an associated unwinding of a mining investment boom.
Continuing Adjustment
"The adjustment we have been experiencing for a couple of years now will most likely continue," Stevens said today. "The terms of trade are still falling. The fall in mining investment spending will continue for at least one more year, though it is probably having its most significant effect on the rate of growth now."
At the same time, the Australian economy has benefited from a more than 20 percent drop in the currency in the past two years, encouraging tourism, education and other service providers to boost hiring as they become more competitive. The nation added more than 300,000 jobs last year, the best annual result since 2006.
In response to Stevens's testimony, the Australian dollar was little changed at 70.99 U.S. cents at 5 p.m. in Sydney. While a majority of economists predict the cash rate will be left unchanged this year, money markets are pricing in further easing.
Asked about the currency and commodity prices, the governor noted that the central bank's language had evolved.
"There was a period when we felt the exchange rate wasn't quite doing the job we might have expected and we said so," Stevens said. "It then has adjusted and our language has of late been 'it's adjusting'. I'd still say that. I would also note that commodity prices are continuing to fall."
In relation to the employment market, the RBA chief acknowledged that concerns had been raised over the past year about the month-to-month movements of jobs. 
"All that's fair enough," he said of the debate on the figures. "Let's suppose we discount some of the strength in jobs growth – you could shave half a point off jobs growth and you still have 2 percent, which is strong. It's hard to avoid concluding the labor market is a bit better than we thought it would be."
Earlier, the governor said "the net effect" of weakness in mining and growth in other areas of the economy "is likely to be continuing expansion at a moderate pace." 
— With assistance by Benjamin Purvis
Before it's here, it's on the Bloomberg Terminal.
LEARN MORE