State Bank of India Third-Quarter Profit Drops 62%
By
Provisions for bad loans almost double in the December quarter

Soured debt `will bog down profit' in short term, analyst says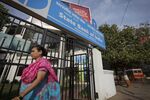 State Bank of India, the country's largest lender, reported the biggest profit drop in five years as provisions for bad loans almost doubled from three months earlier. Shares plunged to a two-year low.
Net income dropped 62 percent to 11.2 billion rupees ($164 million), or 1.43 rupees a share, for the three months ended Dec. 31, from 29.1 billion rupees, or 3.9 rupees, a year earlier, the Mumbai-based lender said Thursday in an exchange filing. That was the biggest drop since March 2011 and missed the 33 billion-rupee mean of 29 analyst estimates compiled by Bloomberg.
Chairman Arundhati Bhattacharya is trying to keep soured debt under check after the Reserve Bank of India asked lenders to recognize and make provisions for stressed assets on their books. ICICI Bank Ltd., SBI's largest private-sector competitor, last month reported the slowest quarterly profit growth in six years after bad-loan provisions surged threefold.
"Once all the stressed assets are recognized and provided for, the focus will be back on growth," Hatim Broachwala, a banking analyst at Nirmal Bang Institutional Equities Ltd. in Mumbai, said before the results. "Recognizing and providing for pain in their loan book will bog down profit in the short term."
RBI Deadline
SBI shares fell 3 percent to 154.25 rupees in Mumbai trading, the lowest level since March 2014, extending this year's losses to 31 percent versus the 18 percent drop in the S&P BSE India Bankex Index, which tracks 10 lenders.
The gross bad-loan ratio widened to 5.1 percent from 4.15 percent in the previous quarter. By comparison, HDFC Bank Ltd., India's most-valuable lender by market capitalization, had a ratio of 0.97 percent. Provisions SBI made for soured debt almost doubled to 76.4 billion rupees from the previous quarter.
In December, RBI Governor Raghuram Rajan set lenders a March 2017 deadline to clean up their balance sheets. The proportion of Indian banks' stressed assets, which include restructured and soured loans, to total advances surged to a 14-year high of 11.3 percent as of Sept. 30, data compiled by RBI show. Rajan told bankers in Mumbai on Thursday that once the system is cleaned, banks will be able to support economic growth in a sustainable and profitable way.
Scare Mongering
"Almost half of the provisions required under RBI's asset quality review is done in the December quarter," Bhattacharya told reporters in Mumbai on Thursday. "Provisions in the March quarter could be on similar lines."
The Mumbai-based bank saw a record 207 billion rupees souring in the December quarter, Bhattacharya said. SBI's capital-adequacy ratio stood at 12.45 percent, the filings showed, compared with a requirement of at least 9 percent under Basel III rules.
Wild claims made by some financial analysts about the size of stressed assets verge on "scare-mongering" Rajan said. "The market turmoil will pass. The clean-up will get done and Indian banks will be restored to health."
State-owned banks account for more than 70 percent of India's outstanding loans. Government-controlled lenders will require infusions of 1.8 trillion rupees in equity to comply with international standards under the so-called Basel III regulatory regime, Finance Minister Arun Jaitley said in August.
Junior Finance Minister Jayant Sinha told reporters in New Delhi earlier on Thursday that the stock of stressed assets is roughly 8 trillion rupees, and the government has committed cash for this.
(An earlier version of this story was corrected to say profit fell)