SocGen Signals It May Miss Profitability Target, Shares Drop
by and
Bank says ROE target for this year of 10% is `unconfirmed'

SocGen reports profit of 656 million euros, missing estimates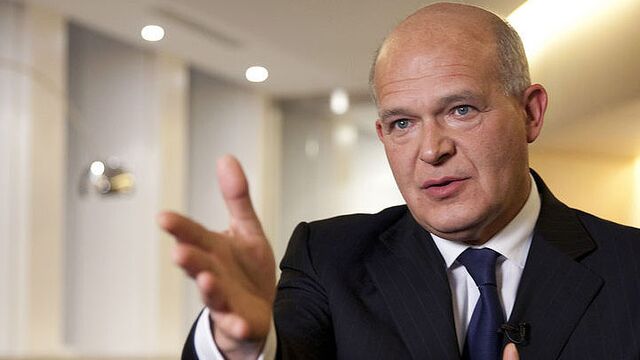 Societe Generale SA posted fourth-quarter profit that missed analysts' estimates, hurt by a slump at the investment bank, and signaled it may miss its profitability target. The shares plunged the most since 2011.
Net income rose 19 percent to 656 million euros ($741 million) from a year earlier, the Paris-based company said Thursday. That was below the 944 million-euro average estimate of four analysts surveyed by Bloomberg. At the investment-banking division, profit dropped 35 percent in that period.
France's second-largest bank, led by Chief Executive Officer Frederic Oudea, indicated the bank may have difficulty reaching its profitability target in 2016, citing "headwinds" including regulatory pressures, record-low interest rates and volatile markets. While the lender announced a series of cost-cutting measures last year, it has stopped short from deeper investment-banking reductions like those underway at Deutsche Bank AG and Credit Suisse Group AG.
"This is a profit warning rather early in the year," said Jean Pierre Lambert, an analyst at Keefe, Bruyette and Woods Ltd. in London, who has a market perform rating on the shares. "It shows lack of visibility, especially for market activities at Societe Generale, but there are also uncertainties over litigation and the impact of the economic slowdown."
The shares closed at 27.47 euros in Paris, down 13 percent. That's the biggest drop since 2011, reflecting a deepening rout among European lenders. Deutsche Bank slumped 6.1 percent, bringing losses this year to about 39 percent, while Credit Suisse tumbled 8.4 percent.

Oudea, 52, told reporters at a briefing in Paris that there are "more uncertainties than anticipated" this year and that the new profitability guidance is unrelated to the first quarter. While Societe Generale maintained its target for a 10 percent return on equity in 2016, it said the goal is "unconfirmed." The measure was at 7.9 percent in 2015.
Banks across Europe have been under pressure to raise capital buffers to meet tougher regulatory requirements while cutting costs and shrinking their securities businesses as volatile markets undermined revenue. At Deutsche Bank, co-CEO John Cryan was forced to reassure investors and employees this week that the bank is "rock solid" as concern about capital and funds drove down the value of its stock and bonds.
Societe Generale deputy CEO Severin Cabannes said in a Bloomberg Television interview that there's "absolutely no risk" the bank will fail to pay coupons to investors who are holding additional Tier 1 debt.
'Challenging Conditions'
"The fears are overdone and disconnected from market reality," Cabannes said, referring to recent market turbulence. Banks around the world have strengthened their capital in recent years and "we cannot compare the current situation with what we had to manage in 2008," he said.
SocGen's 1 billion euros of 6.75 percent bonds dropped two cents to a record low of 88 cents amid a wider sell-off in financial credit markets. The cost of insuring junior debt at Europe's banks and insurers rose for the 10th time in 11 days, and a gauge tied to senior bonds also resumed an increase, according to data compiled by Bloomberg.
Profit at Societe Generale's global banking and investor services unit, which includes trading, private banking and custody, slipped to 275 million euros in the fourth quarter from 422 million euros a year earlier. Revenue at the global markets business dropped 8.5 percent to 1.28 billion euros.
Equity trading decreased 31 percent to 447 million euros in the fourth quarter from a year earlier, hurt by "challenging market conditions combined with more pronounced investor risk aversion notably for structured products," the bank said. Fixed-income revenue climbed 10 percent to 511 million euros driven by a "strong" performance from rates and credit trading, according to the bank.

"Our specificity at Societe Generale is the weight of our structured products even in fixed-income markets," Cabannes said. "In the second half of the year the appetite of investors on structured products has been lower. It is linked to the instability of the markets and in general of the environment."
Oil Exposure
The bank had 23.5 billion euros of exposure to the oil and gas industry at the end of the year, of which two-thirds was investment grade, according to slides. That's less than the 75 percent share at French rival BNP Paribas SA, the latest disclosures show.
Cabannes said the bank has a "limited" exposure to the oil and gas industry, representing about 3 percent of the group total. Based on a "stress scenario" with oil prices around $30 a barrel, "the impact on the cost of risk this year will be manageable," he said.
"Their amount of exposure to commodities seems to be higher than the other banks have reported, so the market will be worried about that," said Shailesh Raikundlia, an analyst at Haitong Securities UK Ltd. in London with a buy rating on shares. "BNP had a decent set of numbers while at SocGen it suggests they have perhaps lent to less higher credit quality institutions."
Bonus Cuts
The bank will cut its bonus pool for 2015, Cabannes said, without elaborating. At Natixis SA, variable pay increased by 4 percent, according to CEO Laurent Mignon. The French investment bank on Wednesday reported a 39 percent increase in fourth-quarter net income to 316 million euros from a year earlier.
Deutsche Bank, which runs Europe's largest investment bank, and Credit Suisse both logged losses at their securities units in the fourth quarter. At UBS Group AG, which overhauled its businesses in 2012 to focus on wealth management, the securities unit reported a profit drop of 63 percent, while BNP Paribas said last week that it's looking to cut risk-weighted assets at the investment bank by 20 billion euros.
Rising costs tied to past misconduct have hampered European banks' ability to build capital and restore earnings growth. Societe Generale said its net cost of risk rose 3.3 percent to 3.1 billion euros in 2015. That included an additional 600 million-euro provision for litigation, bringing the total to 1.7 billion euros at the end of the year.
Oudea said the company is still conducting an internal review linked to an OFAC probe into alleged violations of U.S. embargoes and a conclusion may come as early as the end of this year or in 2017.
Russian Losses
Ten European banks have spent a combined $15.5 billion on fines for sanctions and anti-money laundering violations since 2009, the largest of which was BNP's $8.97 billion settlement in 2014, according to data compiled by Bloomberg.
"There are fears that the legal costs could increase as we've seen with BNP Paribas just how expensive such matters can get," said Christian Hamann, an analyst at Hamburger Sparkasse, who has a neutral recommendation on the shares.
Societe Generale has already taken steps to adapt its businesses to tougher regulation and adjust to clients' migration to mobile banking. The company committed to 850 million euros of additional cost reductions by next year, with 420 job cuts in France, partly at investment-banking support teams. It decided to reduce the number of its French branches by 20 percent through 2020 and sold its minority stake in asset manager Amundi SA to raise cash.
Net income for 2015 rose 49 percent to 4 billion euros, the highest since 2006, helped by asset sales and accounting gains from the revaluation of the bank's own debt. The bank increased its common equity Tier 1 ratio, a key measure of financial health, to 10.9 percent at the end of December from 10.1 percent a year earlier, it said.
French consumer-banking profit rose 27 percent to 315 million euros in the fourth quarter from a year ago. Earnings from consumer banking outside of France quadrupled to 284 million euros from a year earlier, when it booked a 200 million-euro charge related to the sale of its Brazilian consumer finance unit.
In Russia, one of Societe Generale's key markets outside of France, the loss narrowed to 8 million euros in the quarter from 10 million euros a year earlier, bringing the shortfall to 165 million euros in 2015. Societe Generale said it expects net losses of between 50 million euros to 100 million euros this year, citing a "still challenging environment."
The company raised its dividend 67 percent to 2 euros a share for 2015. That's in line with analysts' estimates.
"You have to worry that 2016 will be a weak year for Societe Generale and other banks," said Michael Seufert, an analyst at Norddeutsche Landesbank who has a neutral recommendation on the company's shares. "There are so many factors weighing on them. Clients holding off investments is bad for banks as is the low interest rate environment in Europe."
Before it's here, it's on the Bloomberg Terminal.
LEARN MORE