Racked Markets Hand Verdict to Central Banks on Sub-Zero Rates
By , , and
More than $8 trillion erased from global equities this year

Negative rates hurt banks as unconventional policies backfire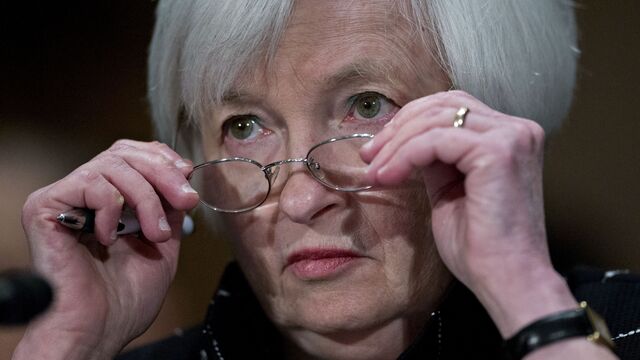 It seemed like a good idea at the time: Cut interest rates below zero to revive growth.
But as policy makers from Tokyo to Stockholm embrace the notion, investors are close to panic mode. Far from buoying financial markets this year, negative rates have helped global stocks enter a bear market, sent the cost of protection against corporate defaults soaring and driven investors to havens such as U.S. Treasury bonds and gold.
Fueling the turmoil is fear that negative rates will slam the world's banks. In theory, they could be the panacea to cure sluggish global growth: by charging lenders fees for parking money at central banks, policy makers hope banks will use that cash to make loans, jump-starting their economies. In practice, investors worry it may squeeze bank profits and rattle money markets.
"We're here in an environment where central banks have to learn one message, and that is that negative interest rates are not desirable and they are not workable," Hans Redeker, head of global foreign-exchange strategy at Morgan Stanley in London, said in a Bloomberg Television interview. "When you cut into negative interest rates you have to think about the profitability of the banking sector."
About a quarter of the world economy is now in negative-rate territory with more than $7 trillion of government debt offering yields less than zero.

On Thursday, Sweden's central bank lowered its key interest rate even further below zero, cutting the repo rate to minus 0.50 percent from minus 0.35 percent. Last month, the Bank of Japan joined counterparts in the euro area, Denmark, Sweden and Switzerland with the same policy.
Federal Reserve Chair Janet Yellen said this week that the Fed was taking another look at negative interest rates as a potential policy tool if the U.S. economy falters.
More than $8 trillion has been erased from global equity values this year as the benchmark MSCI All-Country World Index tumbled 20 percent from its May high, entering a bear market. Negative interest rates have suddenly eclipsed investor worries over fading economic growth in China and the near two-year collapse in oil prices.
Israel will be next to adopt negative rates within three months, according to strategists at Citigroup Inc. As central bankers face a lack of alternative easing options to tackle concern about the levels of their exchange rates, this policy trend will continue though lower rates probably won't effectively raise inflation, the analysts said. They forecast that in the next one to two years, the Czech Republic, Norway and Canada could follow.
Battered Banks
Bank stocks have led the decline. Deutsche Bank AG has lost more than a third of its market value amid concern about the lender's capital and funding levels, prompting Finance Minister Wolfgang Schaeuble to voice his support for Germany's biggest lender. Credit Suisse Group AG joined Italian and Greek counterparts trading at or near record lows.
In the U.S., where the first rate increase in a decade has failed to prevent yield curves from flattening to levels not seen since 2007, banks are feeling the pain in profits. First-quarter earnings from banks and brokerages are expected to fall 5 percent, compared with a September forecast for growth of 2.5 percent, data compiled by Bloomberg show.
It appears that negative rates have not been "especially impactful in lifting growth or inflation, or in lifting expectations about future growth or inflation," Scott Mather, managing director at Pacific Investment Management Co., wrote in a report. "Instead, it seems that financial markets increasingly view these experimental moves as desperate and consequently damaging to financial and economic stability."
Japan's Example
To get an idea of how monetary easing has stopped working, look no further than Japan. BOJ Governor Haruhiko Kuroda's decision last month to lower interest rates below zero lifted stocks for only two days before selling took over in all but one of the following sessions. The Topix index has since tumbled about 14 percent, with banks plunging approximately 28 percent.
It's a reversal from the last six years, when lower interest rates helped weaken currencies, bolster corporate profits and drive investors to seek risky assets.
"Markets Give Thumbs Down to Negative Rates," read the title of a research report from Goldman Sachs Group Inc. published Thursday.
That hasn't deterred more central bankers from digging deeper into their monetary toolboxes. With inflation expectations falling, real interest rates will rise without offsetting policies.
Lower Rates
International Monetary Fund director Jose Vinals said this week that central banks will continue to push interest rates further below zero if policy makers decide that's best for the economy.
"They could go lower," Vinals, director of the IMF's monetary and capital markets department, said in an interview on Bloomberg Television. "What's important is that each central bank in each particular country and region assess whether the benefits of negative rates are higher than the costs and if that's the case, negative rates will remain."
JPMorgan Chase & Co.'s economists said this week that by only subjecting a portion of reserves to negative rates, policy makers can lower borrowing costs further while limiting pressure on bank profits.
The market turmoil highlights that investors are concerned that central banks are running out of ammunition after almost a decade of easy monetary policy that helped prevent a depression in 2008-2009 but more recently has had diminishing returns. A study by the Bank for International Settlements last October found that "unusually low interest rates and an unusually flat term structure" erode bank profitability.
"Central banks are getting out of control; They are now more a problem than a solution," said Stephen Jen, co-founder of SLJ Macro Partners LLP in London and a former IMF economist. "Central banks keep trying newer things, but we increasingly see breakages in banks, in the markets."