business
Crude Hits Hurdle as U.S. Gasoline Glut Puts Brakes on Refining
By and
Cheap fuel in Midwest means margins at lowest in over a year

Valero, PBF have reduced production in Tennessee, Ohio units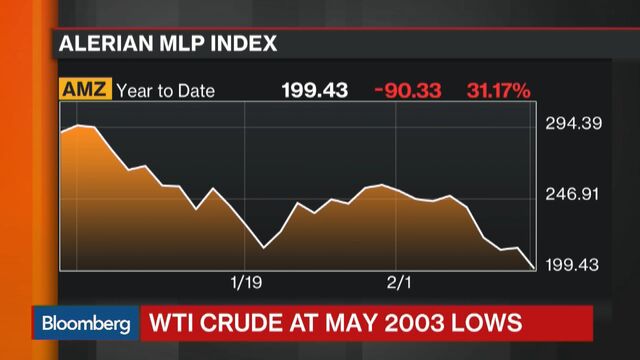 Refineries in the middle of the U.S. are curtailing crude processing as profits shrink, leaving behind oil that's adding to a supply glut and pushing prices to the lowest since 2003.
Valero Energy Corp. and PBF Energy Inc. have reduced production at plants in Tennessee, Ohio and Texas. PBF's Toledo refinery is losing money producing gasoline, Chief Executive Officer Tom Nimbley said on a conference call Thursday.

Cuts in Midwest refinery runs mean more crude oil gets shoved into storage. Cushing, Oklahoma, the delivery point for U.S. crude futures, already has a record amount of inventories. Sellers were discounting crude for delivery in March by as much as $2.83 a barrel compared to April, the steepest one-month contango since February 2011.
"It's like this death spiral," said Andy Lipow, president of Lipow Oil Associates LLC. "You have run cuts, crude inventories increase, the crude price gets hammered, and then the margin eventually gets restored, enabling refiners to pick up runs and convert the crude surplus into a product surplus, then you repeat the process."
Gasoline supplies in the Midwest are at the highest level since 1993. A rough estimate of profit from refining West Texas Intermediate crude into gasoline and diesel fell to as low as $2.14 a barrel in the mid-continent. In Chicago, fuel is so cheap that refineries lost as much as 23 cents a barrel this week.
Energy Aspects Ltd., a London-based energy consulting firm, said in a research note Monday that refineries are now losing money cracking WTI in the Midwest. WTI for March delivery touched $26.05 a barrel in New York on Thursday, the lowest in more than 12 years. It closed at $26.21.
'Tough Place'
Valero cut runs at its Memphis, Tennessee, refinery as margins weakened on rising gasoline supply, according to two people familiar with plant operations. PBF's Toledo refinery reduced the amount of crude it's processing to about 150,000 barrels a day, from its maximum capacity of 160,000 barrels.
"It's a tough place to get rid of the crude," PBF's Nimbley said. "Cutting runs further, you sometimes hurt yourself because you lose more on the crude you are selling than you are cutting back."
The fuel glut in the U.S. has burned independent refiners, which had outperformed the rest of the energy sector during the oil crash. A Bloomberg Intelligence index of 11 independent refining companies has lost 37 percent since Dec. 4, after rising about 230 percent the previous five years.
"The pain has gone right down the distribution network," said Andrew Lebow, senior partner at Commodity Research Group. "First it was the producers, then the midstream. Now, after a pretty good run of better-than-average margins, the refiners are feeling the pain."
Before it's here, it's on the Bloomberg Terminal.
LEARN MORE