North Korea Expels Last South Koreans From Factory Park
By and
Move comes after South Korea pulls companies from Gaeseong

North Korea also says it is freezing assets at factory site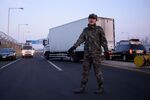 North Korea sent in its army to occupy an industrial park jointly run with South Korea and severed a military hotline, keeping tensions high in the aftermath of Kim Jong Un's nuclear test and long-range rocket launch.
North Korea expelled all remaining 280 South Korean nationals from the Gaeseong site late Thursday and froze the assets of more than 120 South Korean companies operating there. The move came a day after South Korea said it was pulling out of the project to deny Pyongyang hard currency that could be used to fund its weapons program.
The tussling over Gaeseong shows Kim remains defiant in the face of international condemnation over the regime's fourth nuclear test in January, followed by the Feb. 7 rocket launch. As the United Nations mulls additional sanctions, the U.S., Japan and South Korea have announced unilateral measures to punish the regime. China, Pyongyang's most reliable ally, has condemned Kim's actions while resisting calls for harsher sanctions that could destabilize its neighbor.
"The South Korean puppet group will experience what disastrous and painful consequences will be entailed by its action" of pulling out of Gaeseong, North Korea's Committee for the Peaceful Reunification of Korea said Thursday in a statement on its official Korean Central News Agency. President Park Geun Hye was "a fool" for ending operations at the complex and the suspension was a "a dangerous declaration of war," it said.
A decade of sanctions has failed to deter North Korean ambitions to develop a nuclear arsenal that Kim calls a needed defense against a U.S. invasion. While Pyongyang has increased the range of its ballistic missiles and has enough nuclear fuel to produce more devices, weapons experts say it is years from being able to successfully launch a nuclear warhead on a long-range missile.
Gaeseong was the last vestige of economic cooperation between the two Koreas, and kept hope alive the nations could eventually reunite. Set up during a period of detente in the early 2000s, the manufacturing hub has been one of the biggest sources of hard currency for the isolated regime, with the salaries of 54,000 North Korean workers paid in U.S. dollars directly to Pyongyang. 
Hard Cash
The project provided 616 billion won ($512 million) in cash to North Korea since operations began more than a decade ago, South Korea's Unification Minister Hong Yong Pyo said Wednesday. The Seoul government and private citizens have also invested more than 1 trillion won in the park, he said.
This is the first time that South Korea has pulled out of Gaeseong. The complex was shuttered for five months in 2013 when North Korea -- slapped with tighter sanctions after a nuclear test that year -- held back its workers. The countries pledged not to let Gaeseong be affected by political tensions when they agreed to reopen the site that year.
"The relations between the two Koreas will remain extremely sour for some time," Kim Soo Am, a research fellow at the Korea Institute for National Unification, said by phone. "Once Gaeseong turns into a military area, it will be hard for the industrial complex to reopen as North Korea will be requesting strong compensation."
All South Korean property except private belongings will be frozen, North Korea said. The military hotline, a symbol of efforts to limit tensions, will be disconnected, it said. For its part, South Korea cut power and water supplies to the industrial park late last night, its Unification Ministry said in an e-mailed statement.
Shares Plunge
North Korea denied that the money it gained from Gaeseong was used to develop its nuclear arms and missiles, and argued South Korea had more to lose from the park's closure. On Wednesday a Gaeseong business group protested South Korea's decision to withdraw, saying the announcement gave them little time to minimize losses.
Shares of companies operating at the park tumbled Thursday, with Hyundai Merchant Marine Co. falling as much as 20 percent, and apparel maker Shinwon Corp. declining as much as 13 percent.
The government announced Friday that it would provide low-interest loans to companies operating at Gaeseong and allow them to defer tax payments to help limit the impact of the shutdown. Hyundai Merchant Marine shares recovered some of its Thursday slide, adding 7 percent at 2:30 p.m. in Seoul. Shinwon fell another 2 percent, after closing down 8.8 percent Thursday.

The closure of Gaeseong heightens geopolitical risk for South Korea and is credit-negative for its sovereign rating, though the country's robust alliance with the U.S. plus China's influence should limit the risk of a direct conflict on the peninsula, Moody's Investors Service analyst Steffen Dyck said Friday in an e-mail.
Shortly before North Korea announced its measures on Thursday, Fitch Ratings said in a statement the developments were unlikely to pressure South Korea's credit rating.
"We view recent events as within the pattern of on-again, off-again relations between North and South Korea that we have seen for years," said Andrew Colquhoun, head of Asia-Pacific sovereigns.
Tensions with North Korea are set to stay high as the U.S. and South Korea prepare for annual "Key Resolve" and "Foal Eagle" drills that Pyongyang calls a dress rehearsal for war. This year's exercises will be the largest ever, a South Korean Defense Ministry official said. They will begin in either late February or early March.
South Korea also announced on Sunday it had agreed to talks for the U.S. to deploy on its soil a ballistic missile-defense system called Thaad, a move opposed by China.
"My main concern is the whole thing is moving in a destabilizing direction," Jim Walsh, a research associate in the Security Studies Program at the Massachusetts Institute of Technology, said by e-mail. "South Korea's military doctrine has changed to a much more aggressive posture."