Lagarde Set for Second IMF Term as No Challengers Emerge
by
Former French finance minister has gained support across globe

U.S. gives formal backing for Lagarde remaining at fund's helm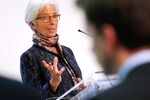 Christine Lagarde is set to win a second term as managing director of the International Monetary Fund, after no candidates emerged to challenge her.
IMF governors and executive directors had until 11:59 p.m. New York time Wednesday to nominate candidates to replace Lagarde, whose five-year term expires July 5. The fund's executive board, which represents the institution's 188 member nations, plans to complete the selection process as soon as possible.
"The period for submitting nominations for the position of the next managing director closed on Wednesday," Aleksei Mozhin, dean of the executive board, said in a statement on Thursday in Washington. "One candidate, Christine Lagarde, has been nominated."
Mozhin opened the position to nominations on Jan. 20, saying the panel has adopted an open, merit-based and transparent process for the selection of managing director, similar to the one used in the previous round. At the fund's annual meeting in Lima in October, Lagarde, 60, said she'd be open to serving another term.
Legal Troubles
Lagarde's legal troubles in France may still complicate her future as managing director. A French court said in December she will stand trial for "negligence" in relation to a settlement the French government reached with businessman Bernard Tapie during her time as finance minister. Lagarde has repeatedly stated her innocence, and she promised to appeal the decision to try her.
She took over as head of the IMF in 2011 when Dominique Strauss-Kahn resigned after a hotel maid accused him of sexual assault. Prosecutors dropped a criminal case amid inconsistencies in her testimony; Strauss-Kahn reached an undisclosed civil settlement with the woman.
Lagarde is the first woman to lead the IMF, which was conceived during World War II to coordinate international monetary policy and lend to countries facing balance-of-payments shortfalls. She has sought to give emerging markets such as China more of a voice at the IMF, while putting greater emphasis on issues including climate change and income and gender inequality, helping to broaden the fund's image beyond its reputation as an advocate of budget cuts and policies to liberalize countries' economies.
This year, Lagarde will confront challenges including market turmoil that threatens global economic growth, a decision on whether to provide Greece a new bailout program and potential demands for IMF funding from commodity-dependent nations around the world suffering from a bust in prices.
Treasury Secretary Jacob J. Lew said in a statement on Thursday that Lagarde has done an "exceptional job" and the U.S. supports her for a second term at the helm of the fund.
"We are encouraged by the broad support she has secured among the fund's membership, including from the emerging economies," Lew said.
Before it's here, it's on the Bloomberg Terminal.
LEARN MORE