Jokowi Leans on China, Central Bank to Revive Indonesia GDP
By and
President still confident of 7% growth target by end of term

Government wants interest rate to `fall, fall, fall, fall'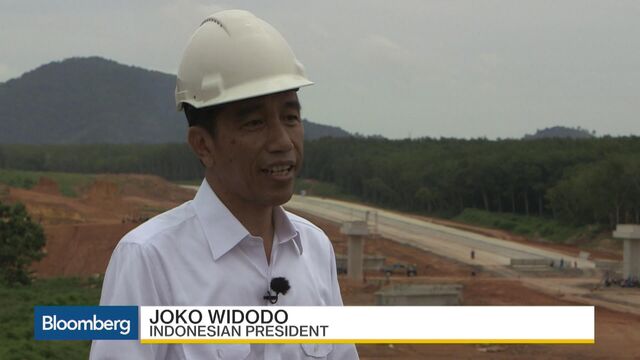 Indonesia President Joko Widodo is confident that more Chinese infrastructure loans and lower borrowing costs can help him reach a 7 percent growth target, rebuffing critics who doubt his ability to revive Southeast Asia's biggest economy.
The country is relying on investors and state-owned companies to fund 70 percent of its infrastructure needs, and wants a third of that from the China-led Asian Infrastructure Investment Bank, the president, known as Jokowi, said in an interview. The government is aiming for 5.3 percent economic growth this year, well short of the goal set by Jokowi upon taking office in 2014.
"I still have four years to achieve that," Jokowi told Bloomberg Television on Thursday after inspecting a toll road project on the island of Sumatra. "If infrastructure is going on, and industry, and manufacturing, and tourism is promoted well, then it will begin showing by the fourth and fifth year."
Jokowi, 54, has sought to win back investors who grew disillusioned with political squabbles and policy confusion after he swept to office on a mandate for change about 16 months ago. The former furniture maker revamped his cabinet in August and the new team moved to improve investor sentiment through a series of economic policies.
Growth Outlook
The rupiah is the third-best performer among major Asian exchange rates this year, while Indonesian stocks have risen the most in the region in local-currency terms in 2016.
"We've turned more positive on the growth outlook, but I think 7 percent by 2019 may still look ambitious," said Euben Paracuelles, an economist at Nomura Holdings Inc. in Singapore. "For that to materialize and remain sustainable, more stars have to align. We have to see greater private sector spending, and a more favorable backdrop on external demand and commodity prices."
The president has pledged to implement business-friendly reforms, increase spending on railways and ports, and to transform the country's often corrupt and inefficient bureaucracy. The government will change the rules governing foreign investment limits in 49 sectors including in retail, the digital economy and fisheries, Jokowi said.
Falling Rates

On Thursday, the government said it will allow full foreign ownership of businesses including toll roads, cold storage and cinemas. Restrictions were set in 19 others, including coral reef harvesting and small plantations, while existing limits on sectors such as banking remain.
To help drive economic growth, the government wants interest rates to fall toward the inflation rate, Jokowi said, while stressing that Bank Indonesia was "constitutionally independent." The central bank cut its policy rate by 25 basis points in January to 7.25 percent, which compares with an inflation rate of 4.1 percent for last month.
"The government can't interfere," Jokowi said in the interview, following comments last year by Vice President Jusuf Kalla calling for rate cuts. "But we want the BI rate to fall, fall, fall, fall, and keep falling so the real sector can compete with other countries."
Remarkable Turnaround
Driven by an increase in government spending, the economy grew 5.04 percent in the final three months of 2015, surpassing all estimates in a Bloomberg News survey. Gross domestic product expanded 4.79 percent in 2015, the slowest rate since 2009.
Indonesia has seen "a remarkable turnaround for an economy that has dealt with severe weakness from the commodity bust in recent years," Taimur Baig, Asia chief economist at Deutsche Bank AG, said in its Asia Vulnerability Monitor released on Thursday. Indonesia was ranked the least vulnerable in the region.

Patchy Progress
Jokowi's lofty infrastructure goals include more than 3,000 kilometers of railways lines, 24 ports and 2,000 kilometers of roads by 2019. He has attended ground breaking ceremonies for at least two high-profile projects only for work on them to stall, including a Chinese-led high speed railway.
"I'm checking, checking and checking again," Jokowi said, wearing a white hard hat after a meeting with contractors building the highway in Sumatra, part of a plan to build toll roads and railways across the country's most populated islands. It was Jokowi's fifth visit since the 140-kilometer project started, with the section built so far cutting through a rubber plantation.
"Land acquisition is now quicker so the work gets done quicker," he said.