John Paulson Says He's Still Considering Move to Puerto Rico
By and
Hedge-fund manager speaks at investment conference in San Juan

Paulson plans hotel expansion and condominium development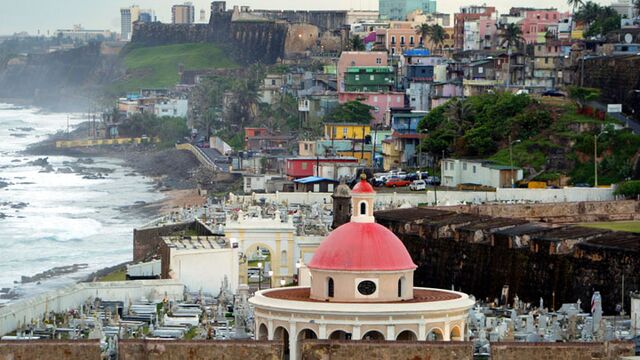 John Paulson hasn't given up on Puerto Rico.
The hedge-fund manager said he's still considering moving to the Caribbean island from New York after flirting with the idea in 2013. Beautiful weather, real-estate opportunities and tax breaks have resulted in Paulson buying luxury hotels and a 326,000 square-foot (30,286 square-meter) office building in San Juan's financial district, he said during the 2016 Puerto Rico Investment Summit in San Juan on Thursday. He plans to expand his St. Regis Bahia Beach Resort and develop new condominiums in the Condado neighborhood of San Juan. He already owns a home and an apartment on the island.
"You can minimize your taxes in Puerto Rico in ways that you can't do anywhere else in the world," Paulson, who manages more than $22 billion of assets, said during a panel with Michael Tennenbaum, co-founder of hedge fund Tennenbaum Capital Partners. Paulson said all of his recent investments are from his private funds rather than from Paulson & Co.

The two investors spoke at the conference, which attracted 400 attendees, as Puerto Rico looks to Congress, creditors and its residents to help resolve a $70 billion debt crisis. Paulson, 60, and Tennenbaum said they don't own any Puerto Rico debt. The island's economy has shrunk every year but one since 2006 and residents are leaving at record numbers to find work on the U.S. mainland. The two men, who worked together at Bear Stearns Cos. 35 years ago, see that changing.
Market Volatility
"I came here because I think they've hit bottom," said Tennenbaum, 80, who manages assets of over $6 billion and moved to the island two months ago on Paulson's urging. "In a democracy, it takes a crisis for change to take place."
Paulson first considered becoming a full-time Puerto Rico resident in 2013 after the commonwealth passed local tax laws to help attract businesses and individuals to the island.
Tennenbaum plans to form a corporation under Puerto Rico's Act 20, which gives businesses that move to the island a 4 percent corporate tax rate and exemptions on dividends and property taxes. He also plans to create a merchant bank.
The two spoke about volatility in the U.S. stock market, but said the U.S. isn't facing another financial crisis. The Standard & Poor's 500 Index ended Thursday down 1.2 percent, hitting its lowest level since April 2014.
"Banks are well capitalized," Paulson said. "The U.S. is on solid ground. The concern is China."