Hong Kong Stocks Fall in Worst Start to Lunar New Year Since '94
by and
Global equity rout deepened during three-day trading break

Riots in city's Mong Kok district may hurt retail sales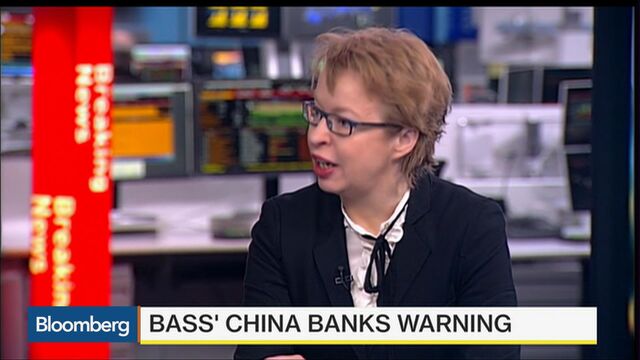 Hong Kong stocks fell in their worst start to a lunar new year since 1994 as a global equity rout deepened amid concern over the strength of the world economy.
The Hang Seng Index slumped 3.9 percent at the close in Hong Kong as markets reopened following a three-day trading closure, during which the MSCI All-Country World Index dropped 2.1 percent. The last time the gauge fell so much on the first day of the lunar new year, investors were worried about the health of former Chinese leader Deng Xiaoping. Lenovo Group Ltd. led declines while energy companies dropped after crude slumped 11 percent during the holidays. Jeweler Chow Sang Sang Holdings International Ltd. slid after riots in the Mong Kok district.
Hong Kong's benchmark equity gauge tumbled 12 percent this year through Friday amid concern that capital outflows, a slumping property market and China's economic slowdown will hurt earnings. Tuesday's violence in the shopping district of Mong Kok threatens to deter mainland visitors and worsen a drop in retail sales, according to UOB Kay Hian (Hong Kong) Ltd.
"You can't avoid a drop because everywhere has come down so much during this time and the same concerns are still there -- oil price, global recession," said Steven Leung, an executive director for institutional sales at UOB Kay Hian. "The image of Hong Kong as a metropolitan city has been hurt quite seriously" by the rioting, he said.
Crude Impact
PetroChina Co. tumbled 5.1 percent, while Cnooc Ltd., China's largest offshore oil company, dropped 5.3 percent. HSBC Holdings Plc slid 5.4 percent to a six-year low. The Hang Seng China Enterprises Index retreated 4.9 percent, its biggest loss since August. Mainland financial markets remain closed for holidays until Monday.
Plunges in crude and concerns over the perceived creditworthiness of European banks has fueled uncertainty over the strength of the world economy this week. Oil fell below $27 a barrel in New York, compared with $31.72 a barrel at the close on Feb. 4. Kyle Bass, the hedge fund manager who successfully bet against mortgages during the subprime crisis, said China's banking system may see losses of more than four times those suffered by U.S. banks during the last crisis.
"The general tone of other markets has been quite soft," said Tony Hann, who helps oversee about $270 million as head of equities at Blackfriars Asset Management in London. "It's difficult to be optimistic" about Hong Kong, he said.
The Hang Seng Index's price-to-book ratio fell below one last month for the first time since the Asian financial crisis roiled regional markets and popped a domestic property bubble in 1998. All but one stock on the 50-member gauge are down this year.

Chow Sang Sang dropped 0.9 percent, while Luk Fook Holdings (International) Ltd., a jeweler that gets more than half its revenue in the city, declined 4.7 percent.
Police fired warning shots in Mong Kok, the city's most densely populated area, early Tuesday after an effort by officials to clear illegal food stalls morphed into a riot. Almost 90 officers were injured, according to the police commissioner, and more than 60 people have been arrested, after protesters hurled bricks and set fire to barricades. The clashes were more violent than anything seen during the "Umbrella Movement" of 2014, where protesters paralyzed downtown Hong Kong for more than two months to demand the right to pick the city's leader.
"This time the situation was quite different from Occupy Central: there was no peace and a lot of people were injured,"  UOB Kay Hian's Leung said. "Overall it shouldn't have very big impact but, of course, it will weigh on related sectors like retail, tourism."
Still, weaker global growth may reduce the likelihood of future interest-rate increases in the U.S., which raise borrowing costs in Hong Kong due to a currency peg, Leung said.
Company Profits
While investor attention may shift toward corporate profits as companies unveil quarterly and annual results, analysts see little scope for optimism. They're predicting a 12 percent drop in the Hang Seng index's earnings per share over the next 12 months, according to data compiled by Bloomberg.
The People's Bank of China pumped four times as much cash into the financial system in the run-up to the lunar new year holidays than it did in 2015 as capital outflows added to pressure on the money market. Outflows increased to $158.7 billion in December, the most since September and were $1 trillion last year, according to estimates from Bloomberg Intelligence. That's more than seven times the amount of cash that left in 2014.
Should the Chinese banking system lose 10 percent of its assets because of nonperforming loans, the nation's banks will see about $3.5 trillion in equity vanish, Bass, the founder of Dallas-based Hayman Capital Management, wrote in a letter to investors obtained by Bloomberg. The world's second-biggest economy may end up having to print more than $10 trillion worth of local currency to recapitalize banks, pressuring the yuan to devalue in excess of 30 percent against the dollar, according to Bass.
Before it's here, it's on the Bloomberg Terminal.
LEARN MORE