Heta Bond-Offer Holdouts Face a Decade in Court, Schelling Says
by and
Austrian government won't pay up for provincial guarantees

Carinthia will fight creditor claims in courts for years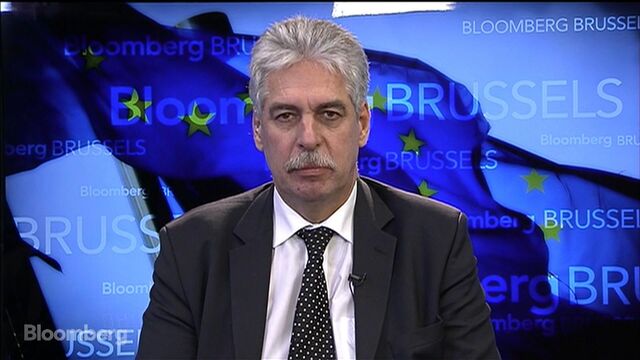 Creditors who reject a discounted offer for 11 billion euros ($12.5 billion) of Austrian bad bank Heta Asset Resolution AG's distressed bonds may spend a decade in court trying to get their money back, said Hans Joerg Schelling, the country's finance minister.
Bondholders should accept the "fair and clear" offer the Austrian province of Carinthia made to them, Schelling said in an interview in Brussels. The province, a former owner of failed Hypo Alpe-Adria-Bank International AG, offers 75 percent of face value to senior creditors, and 30 percent for junior debt.
"We have to go a long way to the courts to clear up the liabilities of Carinthia and we will need about 10 years to clear this," Schelling said. "So the decision you have to make is if you want to have 75 percent within three to four days as a cash position, or is it better to go to the court."
Austria paved the way for Carinthia's bond offer last year, almost six years after it nationalized Hypo Alpe. Having burnt through 5.5 billion euros of taxpayers' money to prop it up, Schelling denied more support in March 2015, leaving Carinthia with the prospect of having to meet guarantees equivalent to more than five times its annual revenue.
Blocking Minority
The discounted offer, which is open until March 11, is based in part on Heta's expected asset recovery and in part on a partial compensation for Carinthia's guarantee. It's the southern province's main attempt to remove the threat of insolvency. The offer will succeed if two-thirds of creditors accept it. A group of bondholders representing more than a blocking minority has so far said they reject the deal.
"Time is running out," Schelling said "It must be clear that the offer isn't negotiable in any way. There is no possibility for a second offer." He added that he is "completely ruling out" Austria paying up for Carinthia's guarantees.
Austrian supervisor FMA put Heta into resolution under new European Union resolution rules last year. The process started with a debt moratorium in March 2015, which will be followed by a debt cut the FMA will impose soon. Schelling said. Heta's creditors would have to wait until Heta's resolution is complete before they could claim compensation from Carinthia.
Asked if he was ready to let Carinthia become insolvent, Schelling said: "Yes, but the first step is not an insolvency of Carinthia. The first step is that Austria's FMA will make a haircut," he said. "We have to wind down Heta, and afterwards you can go to the court."
Schelling said he's not concerned about knock-on effects for Austria's federal debt. "There could be problems on local markets or provinces, but i don't expect damages for the image of financial markets and the refinancing of the Republic of Austria," he said. "The spreads we are paying are still good."
Before it's here, it's on the Bloomberg Terminal.
LEARN MORE