Groupon Gains Most Since 2011 on Strong North American Sales
by
'Reality is we have a lot of work to do': CEO Williams

Company interviews candidates for permanent CFO position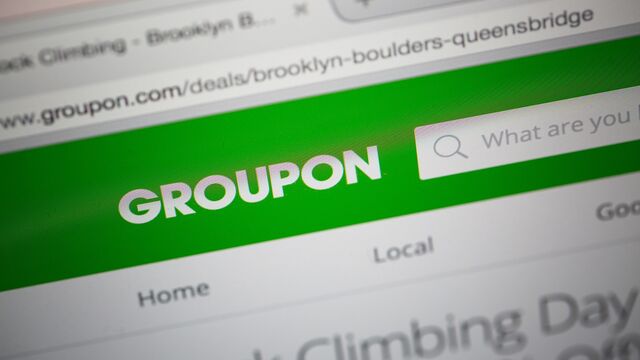 Groupon Inc. jumped the most since its first day of public trading after the company reported fourth-quarter results that beat analysts' estimates, driven by purchases in North America.
The online marketplace said profit excluding some costs was 4 cents a share, compared with the average analyst estimate for a break-even quarter. Groupon surged 29 percent to $2.89, the biggest single-day increase since Nov. 4, 2011 -- its first trading day after its initial public offering at $20 a share.

Having struggled since its IPO to spur growth and profits, Groupon replaced Chief Executive Officer Eric Lefkofsky in November. Since Williams took over, he increased the marketing budget in an effort to revive and reinvent the former Internet darling. Williams said his efforts are starting to bear fruit.
"If we do our jobs really well, we'll beat our plan," CEO Rich Williams said in an interview. "The reality is we have a lot of work to do."
Even with Friday's gains, the shares are down 61 percent over the past 12 months. On Bloomberg Television Friday, Williams said his company's stock was undervalued, but that it wasn't looking to make any deals.
"Our focus as a team just isn't on things like acquisitions, or being acquired," Williams said. "Our focus is on building a great business."
Groupon said adjusted earnings before interest, taxes, depreciation and amortization would be $80 million to $130 million in 2016, compared with analysts' projection for $105.1 million.
Revenue in the period rose 3.8 percent to $917.2 million, beating estimates for $845.9 million.
Groupon is continuing its search for a permanent chief financial officer and is interviewing internal and external candidates, Williams said.


"One of the things you saw in the fourth quarter was faster-than-expected progress on the restructuring side," Williams said on the conference call.
Groupon has exited 17 countries and now operates in 28 as it continues to streamline its operations internationally.
"We are feeling pretty good about our footprint," Williams said. "But we are going to continue to evaluate it opportunistically."
Before it's here, it's on the Bloomberg Terminal.
LEARN MORE