For Analysts, Loving LinkedIn Was Wrong
The company's stock rout prompts a rare collective "oops."
By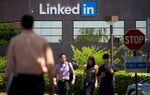 It's not often Wall Street says "I'm sorry." But after LinkedIn reported its earnings on Feb. 4, about a dozen financial analysts with varying strategies and sensibilities issued mea culpas. Some had rated LinkedIn a buy a few hours before its downgraded forecast. They watched in horror as its stock fell more than 40 percent, bottoming out below $104 on Feb. 5. Some put it more simply than others. "We were wrong," SunTrust Robinson Humphrey analyst Bob Peck wrote in a Feb. 5 note downgrading the stock to "neutral." (He'd praised LinkedIn's odds of continued progress two weeks earlier.) Mizuho Securities lamented the company's "significantly slower" growth prospects, while James Cakmak at Monness Crespi Hardt said he was no longer sure even LinkedIn's slower growth would be sustainable.
LinkedIn took a beating even though its earnings report was consistent with recent performance. As usual, it beat earnings expectations, then issued a lower-than-expected sales forecast for the year. It delivered a similarly disappointing projection in last year's second quarter, at which point its stock dipped 19 percent. But now Wall Street is more skeptical of the tech stocks it once assumed would grow forever.
Until Feb. 5, LinkedIn looked like an ideal tech stock to own, almost like a combination of Facebook and Salesforce.com. A free network for professionals, it has the ingredients to grow virally, like a social media company. It sells services to recruiters, salespeople, and marketers, giving it several ways to snag recurring revenue. "This was considered one of the preeminent names, like Facebook and Google," says Peck.
With the Nasdaq down 14 percent and the overall market down 8 percent since Jan. 1, it's time to be careful, says Jason Lemkin, an investor who runs SaaStr, a site that advises software companies. "LinkedIn seemed to have the secret sauce, and everyone predicted infinite growth," he says. Now reality is setting in, and to expand, LinkedIn has to do more difficult and expensive things, like developing and selling more product lines. "When companies hit these growth walls, people just react really strongly," says Lemkin.
Walls are springing up all over. On its earnings call, LinkedIn announced it had shut down Sales Accelerator, a software tool designed to connect businesses with potential customers, because of a lack of interest. Analysts had said the feature would be worth millions. LinkedIn's overall user growth slowed, it got tougher to hold on to paid users, and the company had to lean harder on its sales staff. Small factors added up, and analysts were "blindsided," says Monness Crespi's Cakmak.
Anand Sanwal, co-founder of researcher CB Insights, questions whether the analysts who blew their LinkedIn predictions are worth listening to, given the current industry upheaval. "Equity research analysts are in that camp of guessing and sounding impressive, but also working with these models that are relatively shaky," he says. "They work well when things are slow and steady but don't work well when people are thrown a curveball."
LinkedIn is unlikely to be the last company hit by a pitch, says Sanwal. Investors in private companies often base their valuations on publicly traded stocks like LinkedIn. With even Apple and Amazon.com being punished mightily for their recent quarterly disappointments, companies in the spotlight can't afford many missteps, says SunTrust's Peck. As for his own line of work, he says: "At the end of the day analysts need to rely on their research, not what the company says."
The bottom line: LinkedIn watchers felt compelled to apologize after shares dropped 40 percent following a diminished earnings forecast.
Before it's here, it's on the Bloomberg Terminal.
LEARN MORE