Five Market Moves that Shook Europe on Thursday
Gold shines. The rest, not so much.
by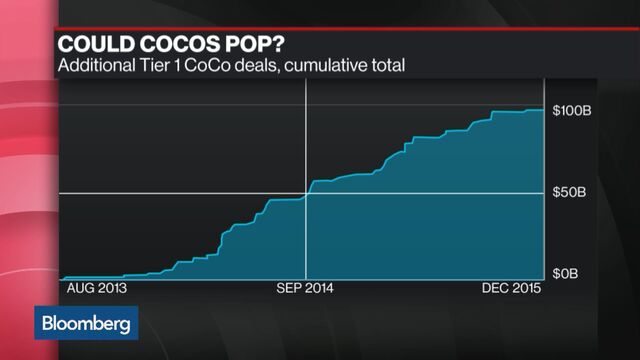 There's been no let-up in global markets, with a series of dramatic moves keeping investors on edge. Global equities are nearing a bear market, with stocks in Europe hitting their lowest levels since September 2013. A deepening rout in European banks is dragging everything down.
Banks Go Bad
Banks are having a particularly bad week: Societe Generale was the latest to miss earnings estimates, falling the most since 2011. Credit Suisse Group slid to a 27-year low.

Financial markets are signaling concern that central banks are powerless in propping the global economy. According to one technical measure, European banks are having a worse time than during the 2008 financial crisis.
Oil Gloom
A slide in energy and mining producers is compounding the stock rout. Rio Tinto Group, the world's second biggest miner, is slashing its dividend after tumbling commodities prices reduced annual profits by half. Oil is nearing a 12-year low.

Oil producers and traders gathered in London for this year's International Petroleum Week see no recovery any time soon. The world is awash with oil as Iranian exports increase after the removal of sanctions and U.S. crude inventories remain swollen.
Gold Triumphs
Gold soared to the highest in a year as investors sought refuge from the stock-market tumble.

Federal Reserve Chair Janet Yellen's suggestion that the U.S. central bank may delay raising interest rates is also driving the flight to gold. Unlike some other assets, gold doesn't pay interest, so the prospect of lower interest rates for longer is boosting its appeal. 
Escape to U.K.
The stock market rout is also boosting demand for the relative safety of U.K. sovereign debt. That has reduced the interest payable on the nation's government bonds, sending the 10-year gilt yield to the lowest on record.

Gains in gilts came after Yellen added to caution in the markets saying Wednesday that falling stocks posed a risk to the economy.
Tensions Aid Yen
The stock tumble and rising tensions between North and South Korea are helping Japan's yen, another safe-haven asset. It rose to its strongest level in 15 months, climbing against every major currency.

It's not all good news, though. The yen rally threatens to undermine almost three years of monetary stimulus, leaving traders speculating that the Bank of Japan may intervene.
Before it's here, it's on the Bloomberg Terminal.
LEARN MORE