Global Credit Risk Rises as Yellen Comments Fan Growth Concerns
by and
'A lot of uncertainty' is sparking selloff in corporate bonds

Default swaps surge to levels last seen four years ago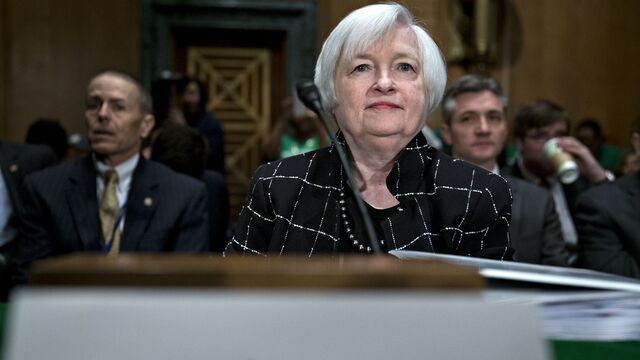 Credit risk rose around the world after comments by Federal Reserve Chair Janet Yellen renewed concerns about global growth stalling.
The cost to protect against company defaults in the U.S. climbed to near four-year highs, after Yellen said declines in equities and other markets may weigh on the outlook for the U.S. economy. Gauges of credit-default swaps in Europe also jumped to the highest since 2013 following Deutsche Bank AG's comments about potential charges on a consumer unit and lower-than-expected earnings at Societe Generale SA.
Credit-default swaps have surged this week amid a global market rout and efforts by Deutsche Bank, Germany's largest lender, to reassure bondholders. Confidence in policy makers' ability to support the global economy may also be waning after Yellen's suggestion of a possible delay in interest-rate increases failed to revive markets.

"There's a lot of uncertainty out there," said Ryan Jungk, a Hartford, Connecticut-based credit analyst at Newfleet Asset Management LLC. "The market goes into these Yellen speeches hoping to walk away with some certainty that it didn't have going in. That doesn't happen, risk assets resume going wider."
The Markit CDX North America Investment Grade Index climbed as much as six basis points to 128 basis points, according to data compiled by Bloomberg. The gauge for speculative-grade debt jumped 14 basis points to 590 basis points, the highest since 2012.
The Markit iTraxx Europe Index of credit-default swaps on investment-grade companies rose seven basis points to 124 basis points, the highest since June 2013, according to data compiled by Bloomberg. An index of default swaps on junk-rated debt climbed 23 basis points to 476 basis points.
Deutsche Bank
Deutsche Bank's riskiest debt fell to record lows on Thursday after the lender said it may to have book further charges on consumer arm Deutsche Postbank AG. The lender this week told investors it would be able to meet payments on so-called additional Tier 1 notes this year and next.
A marketwide collapse in lenders' riskiest debt means the worst-hit bonds issued by Deutsche Bank, UniCredit SpA and Banco Santander SA are now pricing in an average of three years of skipped coupons, according to JPMorgan Chase & Co. analysts. Banks can be barred from making coupon payments if capital falls below a trigger level.
"The difficulty is to find who is the buyer for these instruments," said Dan Karsenty, a fund manager at Eiffel Investment Group in Paris, which oversees more than 500 million euros ($568 million). "I don't think anyone has the answer."
Deustche Bank's 1.75 billion euros of 6 percent notes fell six cents to 70 cents on the euro, according to data compiled by Bloomberg.
Energy Rout
Energy bonds led losses across investment-grade and high-yield corporate debt in the U.S. as the price of crude oil tumbled to $26.14 a barrel. A Bloomberg index of American energy company bonds slipped for a second day to its lowest since December of 2011. Pride International Inc.'s bonds due 2019 dropped to 71 cents on Thursday, the lowest since they were issued by the oil-drilling company in 2009.

"There's been a spill-over effect to sectors other than energy" and forced selling has "kept a lid on prices moving up," said Matthew Duch, a money manager at Calvert Investments Inc. in Bethesda, Maryland, which oversees more than $12 billion in assets. "Buyers aren't stepping in because they don't have cash, have restrictions or want to watch and wait."
Cycle Turning
Exchange-traded funds that hold U.S. junk bonds slid to their lowest levels in almost seven years. BlackRock's iShares iBoxx High Yield Corporate Bond exchange-traded fund declined for a sixth day in its longest losing streak since November. SPDR Barclays High Yield Bond ETF has lost 3.9 percent in six days.
The spread on speculative-grade bonds sold by U.S. technology companies over Treasuries has jumped 100 basis points in five days to 807 basis points on Thursday, the highest level since at least January 2012.
"The price action in the market has been ugly," said Andrzej Skiba, a money manager at BlueBay Asset Management LLP. "To make things worse, the malaise is spreading into segments of the market that weren't that affected earlier."
The credit cycle has turned and defaults will rise over multi-year period, according to a Feb. 8 report from Morgan Stanley. However, North American investment-grade credits are showing "rarely cheaper" valuations, according the report. The extra yield investors demand to hold U.S. investment-grade corporate bonds over Treasuries, or spread, has widened 41 basis points in the past month to 215 basis points on Tuesday, the highest since 2012, according to data compiled by Bloomberg.
"I do think there is a longer term opportunity in investment grade as spreads widen," said Newfleet's Jungk. "But there is no rush to get involved."
Before it's here, it's on the Bloomberg Terminal.
LEARN MORE