Emerging-Market Stocks Drop as Bonds Seen Riskiest Since 2009
By , , and
India enters bear market as Hong Kong-listed China shares fall

Developing-nation currency gauge declines for second day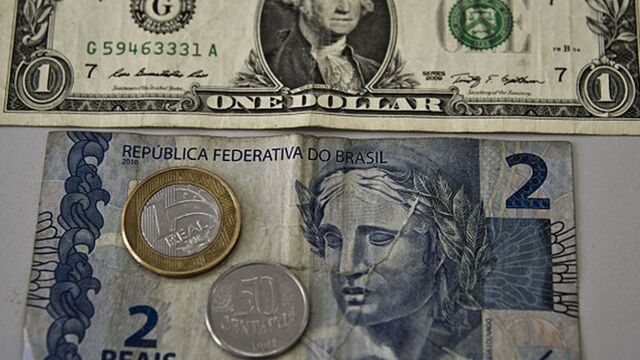 Emerging-market stocks dropped the most in three weeks as investors dumped riskier assets on growing skepticism that central banks can arrest the slide in the global economy. A measure of demand for developing-nation sovereign bonds fell to a seven-year low.
An indicator of the pace at which stocks are falling reached the worst level since 2009. India entered a bear market, Chinese shares in Hong Kong slid the most since August and Brazil had the longest slide in a month after Federal Reserve Chair Janet Yellen on Wednesday left the door open for interest-rate increases this year. Investors now demand more than 500 basis points above Treasury yields to buy emerging-market bonds, according to JPMorgan Chase & Co. indexes. Latin American markets led losses in currencies.

Emerging-market stocks are falling for a fourth consecutive month after China's economy posted the weakest growth since 1990, undermining global demand, sparking competitive currency devaluations from its trading partners and cutting the earnings outlook for companies. Speculation that the Fed might postpone further rate increases was outweighed by concern that declining markets portend increasing weakness in the economy.
"We are facing a global storm in financial markets similar to the financial crisis in 2008," said Bernd Berg, an emerging-market strategist at Societe Generale SA in London. "There is massive panic in global markets that even after eight years of zero interest-rate policy from major central banks, the world economy is not recovering."
Stock Slump
The Fed might delay, but not abandon, planned interest-rate increases in response to recent turmoil in financial markets, Yellen said Wednesday in her semi-annual economic report to Congress. She reiterated the central bank's intention to raise rates gradually, allowing the U.S. economy to continue to expand at a moderate pace and the labor market to improve further. In testimony Thursday, she said the central bank was not to blame for the tumult that has engulfed financial markets this year and is unlikely to roll back its December interest-rate increase in response.
The MSCI Emerging Markets Index fell 2.4 percent to 713.04. The relative strength index, which tracks the momentum of price changes, fell to 34 on the monthly chart. The indicator has plunged lower only on two occasions in the last 17 years.
All 10 industry groups in the gauge declined, with energy and financial stocks retreating the most. The measure has tumbled 10 percent this year and trades at 10.5 times the projected earnings of its members. That's a 26 percent discount to advanced-nation shares.
India's S&P BSE Sensex dropped to a 21-month low as disappointing earnings added to concern that capital outflows are accelerating. The index extended its decline from a record in January 2015 to 20 percent, the threshold considered by traders as the onset of a bear market.
China, Russia
The Hang Seng China Enterprises Index dropped 4.9 percent to the lowest level since 2009 as the city's market reopened after a three-day holiday for the lunar New Year. China's strategy to weaken the yuan periodically is unsustainable because that leads to market selloffs and accelerated capital outflows, Goldman Sachs Group Inc. strategists wrote in a note Wednesday.
Czech stock valuations fell to a five-year low. The PX Index in Prague retreated to the lowest level since November 2011, sending its price-earnings ratio to 10.5 compared with the 10-year average of 12.2.
Russia's Micex Index fell 1.1 percent, extending this week's loss to 3.1 percent. Dubai's DFM General Index dropped 2.6 percent, the third straight day of declines. The Ibovespa slumped 2.6 percent in Sao Paulo, extending its drop to a third day.
Currencies Weaken
A gauge of 20 developing-nation currencies dipped 0.4 percent, falling for a second day. Russia's ruble weakened 1.2 percent against the dollar as Brent crude declined 2.5 percent to end the session at $30.06 a barrel. Argentina's peso was the worst performer, weakening 3.1 percent, followed by a 1.6 percent in Brazil's real.
The offshore yuan, which trades freely outside mainland China, climbed after data signaled that the central bank is supporting the exchange rate. The nation's foreign-exchange reserves shrank by $99.5 billion to $3.23 trillion in January as the central bank was seen intervening in both the onshore and offshore markets to slow the yuan's decline.
The premium investors demand to own emerging-market debt over U.S. Treasuries increased eight basis points to 502, according to JPMorgan data. The yield on South Korean bonds due December 2025 edged up to 1.81 percent, Korea Exchange prices show. That was the biggest increase for a benchmark of that maturity in five months.