China Said to Pitch Hong Kong Listing, Funds for Aramco IPO
by and
Chinese funds could act as anchor investors for oil firm's IPO

Aramco said to consider listing downstream, refining assets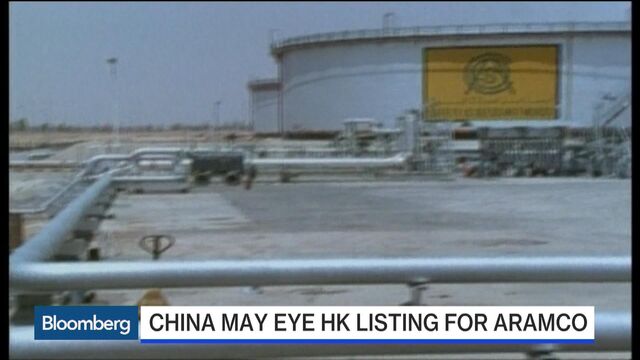 Chinese officials pitched a dual listing for Saudi Arabian Oil Co. that would put the government-owned oil giant's shares on both the Hong Kong and Saudi exchanges in return for anchor investments from Chinese funds, according to people familiar with the matter.
The proposal was made earlier this year and no decisions have been made, the people said, asking not to be named as the details aren't public. The oil producer, also known as Aramco, said in January it's considering an initial public offering of the entire business or some of its units, which could make it one of the world's biggest public companies.
One option Aramco is considering is an IPO for part of its downstream and refining businesses, which could be valued at more than $90 billion and raise $5 billion to $10 billion, the people said. The company hasn't mandated financial advisers and may choose Saudi Arabia as the sole listing venue, they said. A representative for Aramco declined to comment.
Aramco is a strategically important asset for China. Saudi Arabia was the source of 16 percent of China's foreign oil, its largest supplier in 2014, according to the U.S. Energy Information Administration. Chinese President Xi Jinping visited the capital Riyadh last month on his first trip through the Middle East since taking power.
Aramco pumps all of Saudi Arabia's crude oil, with production at 10.25 million barrels a day in December. The company also controls refining operations, facilitates deliveries to buyers, and manages the kingdom's natural gas reserves. While Aramco may open a potential share offering to international investors, the kingdom's crude reserves aren't for sale, Chairman Khalid Al-Falih said in an interview on Al Arabiya television last month.
Winning the listing for Aramco would be a boost for Hong Kong's increasingly popular stock exchange. The exchange had about $34 billion in IPOs last year, surpassing the $30 billion raised in the U.S., which traditionally has the largest volume of listings, according to data compiled by Bloomberg.
Based on its direct ownership, Aramco is the world's fourth-largest refiner, behind Exxon Mobil Corp., Royal Dutch Shell Plc and China Petroleum & Chemical Corp., according to U.S.-based consultants PetroStrategies Inc.
Aramco hired Deutsche Bank AG to advise on the potential acquisition of some marketing, retail and refining assets from China National Petroleum Corp., people familiar with the matter said last year.
Before it's here, it's on the Bloomberg Terminal.
LEARN MORE