Cenovus Cuts Dividend to Survive `Hurricane Force' Oil Rout
by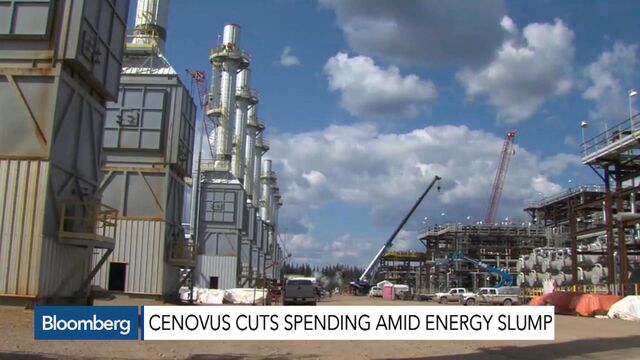 Cenovus Energy Inc. slashed its dividend for the second time in six months and deepened spending cuts for this year in a bid to survive declining oil prices that are buffeting the industry with "hurricane force," Chief Executive Officer Brian Ferguson said.
The company lowered its dividend by 69 percent and said it will cut more jobs as well as compensation to further reduce its 2016 spending in an effort to maintain cash amid an extended slide in oil and natural gas prices. The company reported a fourth-quarter loss.
"They're making the tough decisions they have to make," said Kyle Preston, an analyst at National Bank Financial in Calgary who has the equivalent of a hold rating on the shares. "They probably had more fat to cut than some of the other companies because they had staffed up for so much growth."
Cenovus almost doubled oil and liquids production to almost 200,000 barrels a day in the fourth quarter from 107,000 barrels a day in 2009. That growth, part of a an earlier strategy that aimed to raise production to almost half a million barrels a day by 2021, has been curtailed with crude prices near a 12-year low and Alberta's oil-sands producers fighting to reduce costs and get pipelines built to expand to new markets.
The shares rose 2.2 percent to C$13.82 at 2:07 p.m. in Toronto. The stock has fallen 21 percent this year.
Deferring Maintenance
Cenovus is looking at areas where it can reduce its workforce, Ferguson said on the call, adding that the number of jobs cut won't be as large as reductions made last year that reduced the workforce by about 700 positions, or almost a quarter of the total.
"This is not the time for half measures," Ferguson said Thursday on a conference call. The commodity price declines have gone from a "stiff headwind" in 2015 to "hurricane force" this year, he said.
The company is also deferring non-essential maintenance, including a turnaround at its Foster Creek oil-sands site that will be delayed until 2017. Capital spending will drop to C$1.2 billion to C$1.3 billion from a December forecast of $1.4 billion to $1.6 billion, while the quarterly payout will sink to 5 cents from 16 cents.
The planned capital spending reductions at the Foster Creek and Christina Lake sites are expected to have minimal impact on the company's oil-sands production for 2016, Ferguson said. Oil sands operations will continue to grow this year while conventional production will fall by about 10 percent, he said.
Missed Estimate
Western Canada Select, the blend of heavy crude produced from oil sands bitumen, averaged $27.82 in the fourth quarter, compared with an average of $65.75 over the past five years. WCS sank to $13.80 a barrel Wednesday, according to data compiled by Bloomberg.
Cenovus posted a loss of C$641 million ($458 million), or 77 cents a share in the fourth quarter compared with a loss of C$472 million, or 62 cents, a year earlier, the company said in a statement Thursday. Excluding one time items, worse than the 21-cent loss of 17 analysts' estimates compiled by Bloomberg.
Before it's here, it's on the Bloomberg Terminal.
LEARN MORE