Canada Stocks Fall Fifth Day to Join Global Equity Markets Rout
Eric Lam
Shares tumble globally amid waning confidence in central banks

Financial, healthcare stocks post biggest losses in S&P/TSX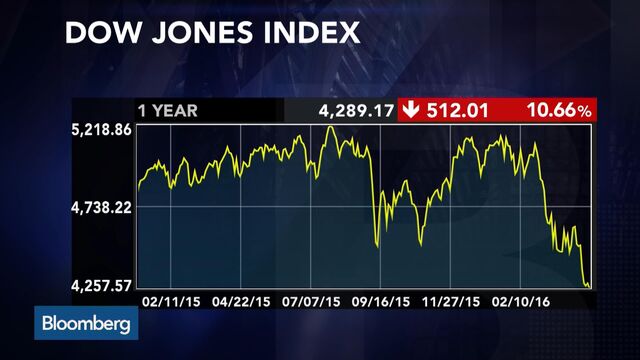 Canadian stocks fell a fifth day, joining a selloff in markets around the world amid waning confidence central banks can support the global economy, as commodities prices fall and growth stalls.
The Standard & Poor's/TSX Composite Index lost 98.28 points, or 0.8 percent, to 12,087.44 at 4 p.m. in Toronto, paring losses of as much as 1.6 percent. The index has tumbled 5.4 percent in five days. Canada's benchmark equity gauge remains the second best-performing developed market in the world in 2016 with a 7.1 percent decline behind only New Zealand, after being among the worst in the past year.

"Our outlook call has been to be ready for anything and this is what we're getting now," said Sadiq Adatia, chief investment officer at Sun Life Global Investments in Toronto. His firm manages about C$12.3 billion ($8.8 billion). "We need to get to a stage where there's some more pain, weed out the people who are very bearish and then get back to the fundamentals of the markets. We don't see this as a buying opportunity yet in equities and we have a risk-off trade if anything."
A nascent rally in Canada's equity benchmark in recent weeks has dissipated as global stocks tumbled amid diminishing returns from central bank actions and as New York crude resumed its downward slide below $30 a barrel. The S&P/TSX slid into a bear market last month as crude prices collapsed due to a global supply glut.
The MSCI All-Country World Index of developed and developing markets entered a bear market from the most recent May 2015 high. U.S. equities retreated as Federal Reserve Chair Janet Yellen's interest rate comments Wednesday failed to inspire lasting gains. The latest central bank moves this week follow the Bank of Japan's surprise shift to negative interest rates and the European Central Bank's signal it will deploy new stimulus next month.
"Everything is off today," said Greg Taylor, fund manager at Aurion Capital Management in Toronto. His firm manages about C$7.2 billion. "You have got the fear of what's going on in the global market. Everyone is looking at negative rates in Europe and Japan, and trying to figure out what that means to the banking system."
Financials and health-care stocks contributed the biggest declines to the S&P/TSX on Thursday. Royal Bank of Canada and Toronto-Dominion Bank, the nation's largest lenders, lost at least 1.2 percent. Valeant Pharmaceuticals International Inc. dropped 2.8 percent.
Manulife Financial Corp., the nation's largest life insurer, sank 9.2 percent for the biggest decline in five years after profit slumped in the fourth quarter due to the company's energy-related investments.
Raw-material shares jumped 3.7 percent as gold producers surged. Barrick Gold Corp. and Goldcorp Inc. rallied at least 3 percent and Kinross Gold Corp. jumped 14 percent. Gold prices climbed to the highest in a year as investors sought a haven investment against the selloff in stocks.
Cenovus Energy Inc. rose 3.2 percent after the energy producer slashed its dividend by 69 percent and said it will cut more jobs and further reduce its 2016 spending in an effort to retain cash amid a slide in crude and natural gas prices.