After the Plunge, Investors Ask: Is It Now Time to Buy Banks?
by , , and
Global sell-off is overdone, Pimco fund manager says

Banks in Stoxx Europe 600 Index have plunged 30 percent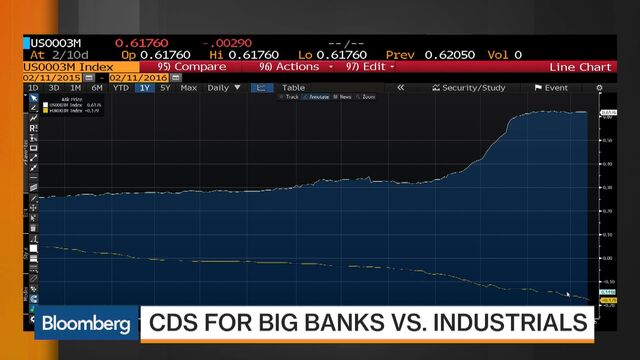 Forget the doomsayers. After another day of dramatic declines in bank stocks and bonds, some investors say now may be the perfect time to buy.
Poor earnings and bleak forecasts at some of Europe's biggest banks have stoked concerns about their ability to meet forthcoming obligations. Sentiment has been further undermined after central banks in Asia and Europe pushed interest rates into negative territory, squeezing the profitability of the industry.  
Societe Generale SA's stock fell as much as 15 percent Thursday after earnings at its investment bank slumped 35 percent and Chief Executive Officer Frederic Oudea signaled the bank may have difficulty reaching its profitability target this year. Credit Suisse Group AG, which posted an annual loss last week, has declined 43 percent so far in 2016 to hit a 27-year low, while Deutsche Bank AG shares have plunged 39 percent. Banks in the Stoxx Europe 600 Index have dropped 30 percent this year.
Lenders' contingent convertible bonds have also tumbled, plunging to a record-low average price of 90.8 cents on the euro from 100.34 cents at the end of 2015, according to the Bank of America Merrill Lynch Contingent Capital Index.
While some investors see reason for panic, others see opportunity. Portfolio managers, analysts and academics offered their thoughts in interviews and research notes.
Philippe Bodereau, a portfolio manager focused on bank securities at Pacific Investment Management Co.:
"We're getting into serious overshoot territory. We think there are very cheap valuations across the capital structure and that the sell-off is overdone. It's an excellent buying opportunity."
Krishna Memani, chief investment officer at Oppenheimer Funds:
"The valuations in European banks in particular have improved tremendously. While their profitability is lower, leaving them for dead may not be justified. If you have a three- to five-year view, some of these financial stocks are extraordinarily good value and you should be looking to buy them."
David Benamou, managing partner at Axiom Alternative Investments:
"Investors who are not constrained in managing their liquidity and can withstand some volatility should not try to catch the lowest point at all costs and take this opportunity to buy bonds at very distressed prices. The recent history of 2009 or 2011 shows how rapid the rebound can be."
Patrick Armstrong, chief investment officer at Plurimi Investment Managers in London:
"We're buying the dips. The market is completely and utterly overreacting to things. The market gets into different regimes where everything is great one minute so buy everything, to the sky is falling and any potential risk is imminent and a potential disaster so sell everything. We're in the latter stage at the minute."
Herve Hanoune, head of fixed-income at Vontobel Asset Management Inc. in Zurich, which manages about 96 billion Swiss francs ($98 billion):
"Bank assets look quite cheap at current market levels, particularly when you compare with their fundamentals, which are for most of them very healthy. However, you had big outflows on this sector with very poor liquidity.
"I believe we are now at a good entry point for bank assets. However you can't exclude a new sell-off linked to strong selling flows."
Brian Jacobsen, chief portfolio strategist at Wells Fargo Funds Management, which has been underweight European bank stocks for two years:
"I've been becoming very intrigued by them. I'm beginning to think that it might become a buying opportunity but I'm not sure we're there yet. The question in my mind is whether it gets worse before it gets better." 
Richard Reid, a research fellow for finance and regulation at the University of Dundee in Scotland:
"Last year the market was priced for perfection. Bank share prices were based on an assumption that growth would be OK, quantitative easing was working, China was ploughing on. Then autumn turned to winter and it became clear that valuations were not being supported by underlying economic fundamentals. Banks need growth and a positive yield curve to make money."
Before it's here, it's on the Bloomberg Terminal.
LEARN MORE