`Agrarian Socialist' Joyce Tipped to Be Next Australia Deputy PM
By
Barnaby Joyce seen as frontrunner to lead National Party

Joyce's threat to kill Johnny Depp's dogs captured headlines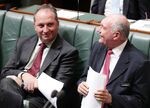 Barnaby Joyce, a self-declared agrarian socialist who captured global headlines when he threatened to kill Johnny Depp's dogs, is Australia's new deputy prime minister.
Joyce, 48, becomes Prime Minister Malcolm Turnbull's second-in-command after Warren Truss announced Thursday he was stepping down as leader of the National Party, the junior partner in the governing coalition. Joyce was automatically designated deputy prime minister after National Party lawmakers chose him as leader to replace Truss.
The rural-based party has an influence over government policy that sometimes outweighs its 21 parliamentary seats -- and Joyce, the son of sheep and dairy farmers, is among its most vocal critics of foreign investment by state-owned Chinese companies in Australia. The agriculture minister has campaigned to keep assets such as bulk grain handler GrainCorp Ltd. and iconic cattle company S. Kidman & Co. in Australian hands.
'Shrinking Violet'
"Joyce is not a shrinking violet -- if there's an issue that's important to him and his constituency, he will stand up for it," said Linda Botterill, a political professor at the ANU who co-authored "The National Party: Prospects for the Great Survivors." "His attitude to foreign investment in rural land is anchored in the deeply held agrarian sentiment within the National Party."
Joyce, who represents the electorate of New England -- home to the nation's country-and-western music capital, Tamworth -- said in a 2005 interview: "Is there a problem with being an agrarian socialist? They denigrate you with it, like you're a leper. If that's what I am, that's what I am."
His straight-talking, unvarnished style garnered international attention last May when he clashed with movie star Depp over Yorkshire terriers, Pistol and Boo. He threatened to euthanize the dogs after they were brought to Australia during a film-shoot and said they shouldn't be exempt from quarantine laws just because Depp had been voted "the Sexiest Man Alive twice."
'Big-Gutted Man'
Depp countered by labeling Joyce "some kind of sweaty, big-gutted man from Australia."
Joyce's opposition to investment by Chinese state-owned companies may cause tensions with Australia's biggest trading partner.
"The land we stand on is intrinsic to our values and identity as a nation," Joyce told a conference in June. "I wouldn't want to see Australian farmland become under the control of the government of another nation."
The Nationals speak for regional Australia in a nation becoming increasingly urbanized. It's Australia's second-oldest political party with 96 years of unbroken representation in the parliament. Fiona Nash was voted the party's deputy leader on Thursday.
Joyce, a former army reservist and qualified accountant, was elected to the Senate in 2004 before being voted into the House of Representatives in 2013. He was given the agriculture portfolio in former Prime Minister Tony Abbott's first ministry. Turnbull added to his responsibilities in October by giving him oversight of water resources -- a vital portfolio in the world's driest-inhabited continent.
Deputy Leader
He's got a record of voting with his convictions in parliament, and under former Liberal Prime Minister John Howard, he crossed the floor to vote against government policies 19 times. His opposition to same-sex marriage and abortion puts him at odds with some of the coalition's more socially-progressive lawmakers -- including Turnbull.
Joyce's three-month stint as opposition finance spokesman was curtailed in 2010 after he warned that AAA-rated Australia was in danger of defaulting because it was going into debt up "to our eyeballs to people overseas."
"Joyce is a strong, effective advocate for rural Australia, but the dynamic of a coalition led by Turnbull and him may indeed make for interesting times," said the Australian National University's Botterill.