YouTube Bets on Unicorns and Aliens to Grow Its Paid Service
"The strategy is to fish where the fish are."
By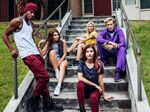 Lilly Singh, a 27-year-old YouTube personality, has delighted teenagers for six years from the comfort of her couch. Using a small video camera and a computer, Singh, known to her fans as "Superwoman," uploads funny sketches about her parents, her South Asian and Canadian heritage, and her crushes.
With almost 8 million subscribers following Singh's main channel for free, YouTube decided to invest in the Internet star when it heard she was making a documentary, A Trip to Unicorn Island. The film follows Singh as she tours the world performing sketches, singing, and giving motivational speeches—material similar to what she posts on her channel.
A Trip to Unicorn Island, which made its debut on Feb. 10, is one of several programs YouTube is promoting as part of its $9.99-a-month YouTube Red pay service, available to U.S. customers. Google, which bought the video-sharing website in 2006 for $1.65 billion, plans to make YouTube more profitable by creating a revenue stream with Red. Like Netflix and Amazon.com, Google is offering original programs, but instead of Hollywood talent, Red is banking on the star power of homegrown personalities such as Singh to persuade fans to sign up.
"The strategy is to fish where the fish are," says Susanne Daniels, YouTube's global head of original content. Daniels, a teen TV programming veteran—she ran the WB Network from 1994 to 2003 and oversaw the hits 7th Heaven and Dawson's Creek—inherited the original-programming initiative when she started at YouTube last summer. "We want to work with top YouTube stars," she says, "and differentiate their programming so that it was clearly something they'd not normally do for their own channel."
Red went live in October. In addition to Unicorn, the original shows include Scare PewDiePie, an adventure series starring Swedish YouTube sensation Felix Kjellberg, and two movies, Dance Camp and Lazer Team, from Web video production companies AwesomenessTV and Rooster Teeth, respectively. Several more programs are slated to premiere by mid-March. Budgets range from a few hundred thousand to several million dollars.
In 2012, YouTube announced plans to spend several hundred million dollars to create channels for Hollywood stars and major media brands to convince customers and advertisers that YouTube was better than TV. YouTube left these channels to fend for themselves, with mixed results.
This time, the company is more hands-on. For Scare PewDiePie, YouTube helped Kjellberg develop and produce the 10-episode series. It's paying to distribute and market Unicorn and alien sci-fi comedy Lazer Team. The latter, the first feature film Rooster Teeth produced, opened in some theaters for a couple of weeks in January via Tugg, a website where fans request local screenings of films they like. It's now available exclusively online at YouTube Red. Former MTV Chief Executive Officer Judy McGrath and her digital content company, Astronauts Wanted, produced Unicorn.
YouTube hasn't said how many customers it hopes will sign up for Red. With more than 1 billion monthly users, it doesn't need to convince everyone, says Rich Raddon, co-CEO of Zefr, a software company that has helped pay-video services advertise on YouTube. Attracting even 10 percent, about 100 million people, would give it a bigger paid-subscriber base than Netflix and all cable TV providers.
Red also includes Google's streaming music service and ad-free videos. Ultimately, though, it's the quality of the programs that will persuade people to pay. "YouTube has this unique opportunity to build a subscription business," Raddon says. "This platform where anyone can upload videos has taken 12 years to build, and now they have to figure out how to subsidize the right kind of shows to drive payments."
The bottom line: YouTube has rolled out original programs, hoping to turn many of its more than 1 billion users into paid subscribers.
Before it's here, it's on the Bloomberg Terminal.
LEARN MORE