Yellen Says Legality of Negative Fed Rates in Question
by
An investigation of legal issues `still needs to be done'

The Fed `didn't fully look at the legal issues' in 2010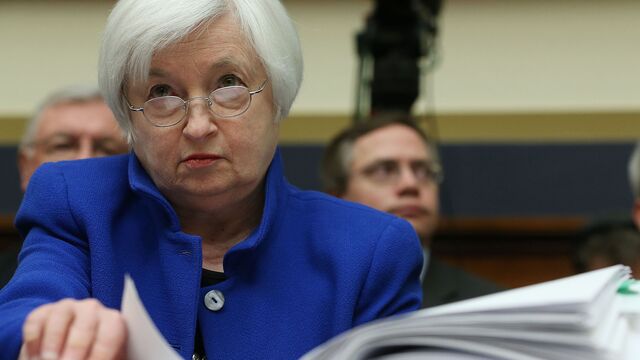 The Federal Reserve has not yet determined whether it would be able to legally implement negative interest rates in the U.S., Chair Janet Yellen said.
"I would say that remains a question that we still would need to investigate more thoroughly," Yellen said Wednesday in response to questions from the House Financial Services Committee in Washington. "I am not aware of anything that would prevent us from doing it, but I'm saying we have not fully investigated the legal issues -- that still needs to be done."
A 2010 staff memo posted on the central bank's website late last month cast doubt on whether the law that authorized the Fed to pay interest on excess reserves, or IOER, also would grant it the authority to charge interest.
That could constrain the policy-setting Federal Open Market Committee's ability to take interest rates below zero in the future, a scenario that has gained increasing traction in financial markets over the past few weeks as mounting concerns over economic growth have raised questions about the tools available to central banks for battling the next downturn.
The Bank of Japan and the European Central Bank recently cut their benchmark rates into negative territory in an attempt to provide more stimulus.
"I do not expect that the FOMC is going to be soon in the situation where it's necessary to cut rates," Yellen said during her testimony. The possibility of negative rates is "something that, in light of European experience, we will look at, we should look at -- not because we think there is any reason to use it, but to know what could potentially be available."

The probability of negative rates on U.S. dollar borrowings by the end of next year implied by trading in options on eurodollar futures contracts has risen to 17 percent from 6 percent a month ago, according to data compiled by Bloomberg. In its annual stress test for 2016, the Fed is asking banks to assess their resilience in scenarios that include negative yields on short-term U.S. Treasury securities.
The Financial Services Regulatory Relief Act of 2006 granted the Fed the ability to pay banks interest on reserve balances deposited at the central bank. The IOER rate has been instrumental in the Fed's effort to lift rates, which it did in December for the first time since 2006.
According to the act, "balances maintained at a Federal Reserve bank by or on behalf of a depository institution may receive earnings to be paid by the Federal Reserve bank at least once each calendar quarter, at a rate or rates not to exceed the general level of short-term interest rates."
The authors of the 2010 memo suggested "several potentially legal and practical constraints" to implementing negative IOER, adding that it was "not at all clear" that the law would permit charging interest on reserve balances.
"It isn't just a question of legal authority," Yellen said Wednesday. "It's also a question of, could the plumbing of the payment system in the United States handle it? Is our institutional structure of our money markets compatible with it? We've not determined that."
Before it's here, it's on the Bloomberg Terminal.
LEARN MORE