Why Does the Government Pursue Student Debtors in Prison?
Getting people behind bars to pay back loans is not an easy business.
By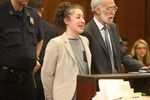 For Cecily McMillan, getting mail while incarcerated was a complex project. Any letter that was sent to her went through a metal detector and was opened by correctional officers before landing in the mailroom, where she had a two-hour window to collect it on a good day, she said.